When a demonstrator aircraft project is cancelled before it has a chance to take flight, there is inevitable speculation around the reasons for that move: ballooning costs, changing strategic priorities, or fundamental weakness of the technology on trial can all be causes for termination.
But Rolls-Royce maintains that, while cost considerations associated with flight testing were a factor in the unexpected axeing of the E-Fan X demonstrator it was jointly developing with Airbus, the hybrid-electric architecture it had designed has a bright – and clean – future.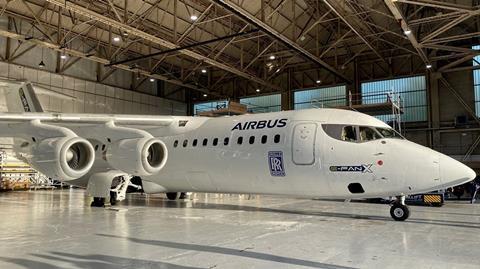 A maiden sortie of the modified BAE Systems Avro RJ100 was due to take place next year, but the partners on 24 April announced they were pulling the plug, claiming that they had learned enough without the need to fly the aircraft.
Paul Stein, chief technology officer at Rolls-Royce, says that although a series of airborne trials was planned for the E-Fan X, a substantial amount of technology "de-risking" can take place on the ground.
Stressing that the cancellation was made "jointly", Stein says the partners "felt that, particularly given the difficult times the aviation industry is about to go through, we had reached a point where we had learned what we needed to".
While "taking it to flight-test would have been exciting" – and could have inspired the next generation of engineers – Stein says both parties were conscious of the expense involved.
"We just decided that taking it to flight-test at this point in the evolution of the technology was not worth the cost," he says.
"Flight-testing would have cost tens of millions and we have both decided that we would prefer to save that money."
Under the E-Fan X programme, the partners were to replace one of the RJ100's four Honeywell turbofan engines with a 2MW electric motor. Rolls-Royce's contribution comprised a 2.5MW generator powered by an AE2100 gas turbine engine, a 3,000V distribution system, plus new power control and thermal management systems.
Rolls-Royce is continuing to develop these individual parts and plans to ground-test the integrated system towards the end of the year at its Bristol site in the UK.
Stein refers to this distributed system as its "copper bird" – a nod to the 'iron bird' rigs used by airframers to test hydraulic and flight-control components in an aircraft-representative layout.
"By completing that 'copper bird' testing we feel we will be in a very strong position that as soon as the right conditions are in place – when an airframer starts to invest or a government goes for a moon-shot project to create a very early demonstrator of hybrid-electric flight – we are ready and ahead of the competition," he says.
Stein emphasises that the E-Fan X was always intended as a demonstrator rather than a product in its own right and points to capabilities it has gained from the development.
"The thermal management is almost as much of a challenge as the electrics – it's an area where we have gained an awful lot of knowledge," he says.
While acknowledging that ground trials do not fully prepare the system for deployment, Stein is confident that these evaluations can sufficiently "de-bug" the technology to allow its incorporation in a future prototype.
Any points not covered by the ground-testing phase would not be "critical", he argues, while the inability to build a sufficiently compact 2MW generator would be "a complete show-stopper".
Although there have been suggestions that hydrogen power could play a significant part in the future, Stein does not see the technology arriving before the latter half of the 2030s.
Instead, hybrid-electric systems of around 3-5MW should be possible "by the end of this decade" for regional operations transporting up to 50 passengers on routes of 500-1,000nm (930-1,850km). Powered by sustainable aviation fuel, such a system would offer "compelling customer benefits" through reduced noise and emissions.
And while the technologies on the E-Fan X were aimed at the category of aircraft requiring 1MW of power and above, Stein sees rapid progress in electrification taking place lower down the weight range.
Hundreds of projects where kilowatts rather than megawatts of energy are required are currently in development, both for inter- and intra-city operations; Stein says Rolls-Royce is working with a number of start-ups "testing our various system components on their platforms".
Additionally, the propulsion specialist is continuing to advance its Accel programme – an effort aimed at securing the speed record for an all-electric aircraft. The attempt on the record was due to have taken place this year, but social-distancing restrictions caused by the coronavirus pandemic have slowed progress. Ground-testing was due to begin just as the UK entered lockdown in late March.
The "class-leading" battery system, being developed with UK start-up Electroflight for Accel, "we very much see as a take-away" from what is otherwise a project with less of a sharp industrial focus, says Stein.
Rolls-Royce's hope is that it will be the "battery and management system of choice for pure- and hybrid-electric aircraft designers", he says.