Norwegian regional carrier Wideroe has linked up with Rolls-Royce and aeronautics firm Tecnam to develop an all-electric passenger aircraft within the next five years.
The aircraft would be suited to the commuter air transport market and enter service in 2026.
Wideroe has previously expressed interest in electric regional aircraft projects such as a 19-seat model proposal from Heart Aerospace.
Norwegian authorities have been active in pushing forward electric aircraft programmes with the country's air navigation service and civil aviation administration seeking domestic operations with such aircraft by 2030 – and a complete domestic transition to electric air travel by 2040.
Rolls-Royce says its tie-up with Wideroe will expand on its prior research with the airline on sustainable aviation, while it already has a partnership with Tecnam on an all-electric programme called the P-Volt.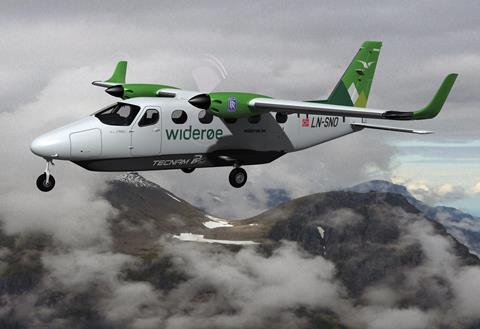 The P-Volt is a twin-engined high-wing aircraft based on the Tecnam P2012 Traveller, which will be capable of carrying nine passengers and serve commercial, cargo or medical evacuation roles.
Wideroe chief executive Stein Nilsen says the short take-off and landing airports in Norway are an "ideal" setting for zero-emission technology.
"This aircraft shows how quickly new technology can and will be developed, and that we are on track with our ambition of flying with zero emissions around 2025," he says.
Chief strategy officer Andreas Aks adds that the airline is "humble" regarding the obstacles to putting such an aircraft into service.
"Our mission is to have all new capabilities, processes and procedures required for a zero-emissions operator, designed and approved in parallel with the aircraft being developed and certified," he says.
The interest in the P-Volt, notably from regional airlines, has been "incredible", says Tecnam product development chief Fabio Russo, adding that the aircraft will "perfectly fit" the scope of the programme.
Rolls-Royce Electrical director Rob Watson says the tie-up will reinforce its partnerships with both Wideroe and Tecnam, respectively focusing on airline requirements and the design and manufacturing aspects.