Boeing believes a light-attack variant of its T-7 jet trainer could replace the world's ageing fleets of Northrop F-5 and Dassault/Dornier Alpha Jet combat aircraft.
Boeing has long touted the "growth potential" of the T-7, noting that the trainer could be retrofitted with weapons, such as missiles or bombs, to serve as a combat aircraft. The company has said that it believes there is a global market for 2,600 T-7s, as trainers, light-attack or aggressor aircraft.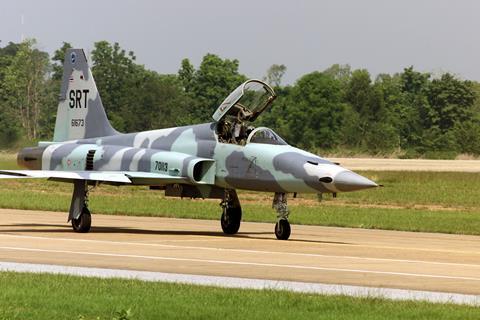 The Chicago-based airframer declines to say what countries are likely buyers of the T-7. However, the firm notes in response to a question from FlightGlobal that light combat jets such as the F-5 and Alpha Jet would be good candidates to be replaced by the T-7. Both of those aircraft also serve trainer roles within various air forces.
There are 435 examples of the F-5 still in service worldwide, according to Cirium fleets data. The light jet was first delivered in 1964 and ceased production in 1989, according to Northrop. Of the worldwide fleet still in operation, the jets have an average age of 41.4 years. The F-5 is operated by 17 different countries, including the air forces of Brazil, Kenya, Morocco and Thailand.
There are 174 examples of the Alpha Jet still in service worldwide, Cirium data shows. The French and German-made light jet first took flight in 1973, according to Dassault. Of the worldwide active fleet, the jets have an average age of 38 years. The aircraft is operated by 11 countries, including Egypt, France and Morocco.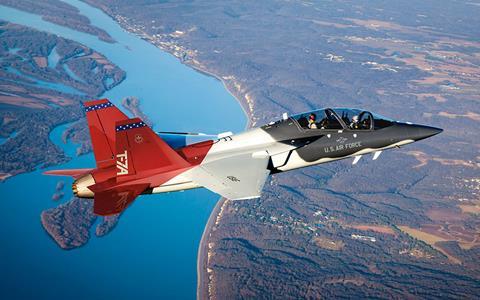 Boeing notes that many potential sales opportunities for the T-7, as a trainer or combat aircraft, are likely to come from the Asia-Pacific region. "We do see some strong interest in that region," says Thomas Breckenridge, vice-president of international sales in Boeing's strike, surveillance and mobility business unit.
The manufacturer is on contract to build up to 351 examples for the US Air Force (USAF), with the first aircraft scheduled for delivery in 2023. The USAF variant of the trainer is called the T-7A Red Hawk. The jet is scheduled to achieve initial operational capability by 2024 and full operational capability by 2034.
Testing of two prototypes of the T-7A is under way, with more than 200 flights on the aircraft completed to date. Boeing has started building its first engineering, manufacturing and development variant of the aircraft for the USAF, but declines to say when that aircraft will first fly.