Boeing foresees the economic impact from the coronavirus pandemic will increase governments' interest in localising maintenance, repair and overhaul (MRO) work for military aircraft.
The company also foresees shrinking government defence budgets, which might delay purchasing decisions.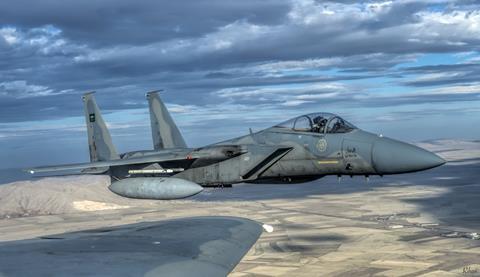 In response, Boeing Global Services is working to deepen its local employment of workers as well as its partnerships with local companies for MRO services.
Boeing is seeing "consistent, and perhaps in some cases even the doubling down, of customers really wanting to make sure that they have a lot of that capability local", says Torbjorn Sjogren, vice-president of international government and defence with Boeing Global Services.
"Today we have fairly significant presences in Australia and the UK, as well as India and Saudi [Arabia]," says Sjogren. "Our Australian and UK presences are our most significant, but we are certainly evolving in those other two and we are currently, while I'm not at liberty to go into detail, exploring additional localisation efforts and having a real presence in a number of other countries."
In the case of Saudi Arabia, the company points to its existing relationships with local players as an example of how it might maintain business in the country going forward. Boeing has a joint venture with Saudi Arabian Military Industries, a state-owned company that is part of Riyadh's plan to localise 50% of its total military spending by 2030.