Northrop Grumman has signed a distribution agreement with Epirus to sell the start-up's electromagnetic pulse weapon to counter hostile or intruding unmanned air vehicles (UAVs).
The system, called Leonidas, is to be sold as part of a suite of counter-UAV weapons, Northrop said on 22 July.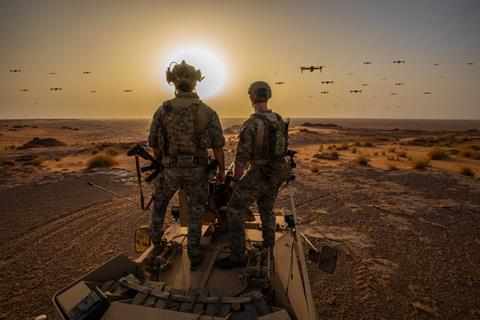 Epirus is a three-year-old start-up that uses solid-state commercial semiconductors to create more powerful electromagnetic pulses to damage the electronics of nefarious drones, such as loitering munitions or intruding quadcopters. The company says the semiconductor technology allows for smaller and lighter electromagnetic pulse generating hardware.
"Our gallium nitride semiconductors provide unmatched power densities that are constantly monitored and optimised by artificial intelligence in real-time," the start-up says. "Leonidas creates an [electromagnetic pulse] that can be steered for precision engagements, or adjusted to sanitise a volume of terrain or sky, creating a force field effect."
The electromagnetic pulse weapon can also be used at short range to disable the electronics of cars, for instance, to stop a convoy of military vehicles without using kinetic weapons, such as guns or missiles.
Northrop's Forward Area Air Defense Command and Control system was selected by the US Department of Defense (DoD) as the interim command and control system for future counter-UAV weapons, it was announced on 8 July. The command and control system is a stop-gap solution for the US military services until the Pentagon decides on a longer-term solution.
The DoD plans to spend at least $404 million on counter-UAV research and development and at least $83 million on counter-UAV system procurement in fiscal year 2021. The spending is in response to the loitering munitions attack on the Saudi Aramco oil processing facilities at Abqaiq and Khurais in September 2019, as well as experience with Islamic State of Iraq and the Levant turning hobbyist quadcopters into improvised explosive devices in Syria and Iraq in recent years.