UK developers have unveiled a prospective design for a 70-seat hybrid-electric regional propeller-driven airliner, which could be in service by 2028.
The aircraft is being promoted as an alternative development path, against the propensity for electric programmes to focus on small 19-seat designs.
Featuring a quad-engined, high-wing and twin-fin configuration, the aircraft would be capable of landing-gear-assisted take-off, for quick acceleration, and short-field performance.
Electric Aviation Group has shown off the design, which it describes as "whisper-quiet", during the FIA Connect virtual Farnborough air show.
It states that the aircraft would accommodate a flexible cabin that could be swapped for cargo operations at night.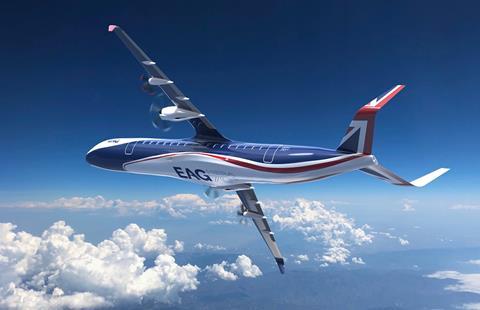 Chief executive Kamran Iqbal says the attention on 19-seat designs is the "wrong strategy" because such types cannot address the requirement for decarbonising large-scale air transport.
The 70-seat aircraft, with two main engines supplemented by two smaller powerplants, would have a range of around 800nm.
Electric Aviation Group says the critical aspect of the design, its hybrid-electric propulsion, will include "innovative airborne battery regeneration" intended to minimise turnaround time.
But the aircraft will also be "future-proof", the company states, enabling it to be modified into an all-electric design if battery energy density improves, or turned into a carbon-neutral design using alternative fuels.
The developer says it wants to capitalise on the "rich heritage" of the UK's aerospace industry in Bristol to manufacture the aircraft, and create jobs in the sector following the UK's withdrawal from the European Union.
"This represents the future of both passenger and cargo flights internationally and, as an opportunity for investment, it could not be better timed," claims Iqbal.