Without a defence budget large enough to self-finance development of its next-generation fighter, the BAE Systems Tempest, the UK will have to forge partnerships with foreign countries to help shoulder the cost.
While it might have made financial sense for London to partner with the Franco-German Future Combat Air System (FCAS) project, led by Dassault Aviation and Airbus, politics have made that increasingly unlikely, aerospace industry experts said during a FlightGlobal webinar staged in conjunction with FIA Connect on 21 July.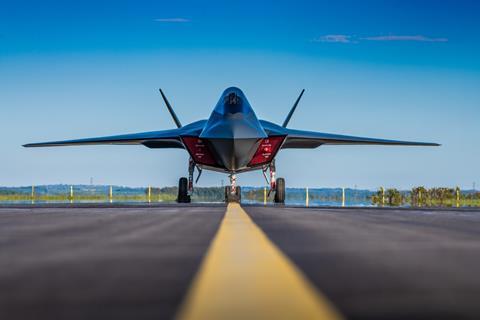 "When the UK decided to Brexit, they made it very clear [that] we are on our own now," says Robin Southwell, former chief executive of Airbus UK. Moreover, agreeing on leadership of such prestigious projects can be politically fraught. "It's very difficult for France and the UK to come together, because both countries want to be in charge and it is very difficult to unwind that," he says.
Besides, the industry consolidation required to support one European fighter programme would be unacceptable to many countries, which want to maintain national champions, jobs and intellectual property, says Douglas Barrie, senior fellow for military aerospace with the International Institute for Strategic Studies.
"If the answer is [that] you can only have one programme, the problem at the European level – and I include the UK in Europe – is that half of the sector loses out. For those countries that lose out, it is very, very damaging," he says. "And you've got to remember, there is a terribly strong national element in all of this."
As a result, expect the cost of the two European next-generation fighters to be higher than if there was just a single programme.
"You can have two programmes. It just means it will be much more expensive," says Southwell. "Programmes of this nature, the non-recurring [expenses] – or investment in development and design – is the significant element of the cost of the programme."
As a result, the UK needs to search abroad for development partners and customers to help share the cost. So far, Team Tempest has grown to include Sweden's Saab and Italy's Leonardo. However, London seems to have an appetite for additional partners.
The UK's other natural military partner is the USA.
"The States would clearly accommodate us to be more engaged in their programmes," says Southwell. "Although, as a German colleague in Airbus once said to me: 'We always end up making the rear-toilet doors'. We must be aware of the degree of noble work that would be associated with that."
The UK has other options besides the USA, says Richard Aboulafia, vice-president of analysis with Teal Group.
"There are a number of markets that want indigenous fighter development with a high degree of technology transfer and co-operation," he says. "In Britain's case, they are always going to be very closely aligned with Saudi Arabia, which has very limited capabilities in terms of combat aircraft participation, except in the all-important field of money."
That could result in some sort of limited final assembly and check-out (FACO) facility in Saudi Arabia, says Aboulafia.
The other interesting international partner for the Tempest programme is Japan. However, Tokyo's Future Fighter plans are difficult to determine.
"What is interesting is the Japanese have decided to not keep going with a [Lockheed Martin] F-35 FACO in-country," says Aboulafia. "That means they are either keeping their powder dry for presumably a Mitsubishi programme that could involve any number of people, or it could mean they are abandoning the concept of fighter sovereignty, and they just haven't been able to come out and say that yet because, of course, it would annoy a lot of people in industry and the [Japan Air Self-Defence Force]."
Outside Saudi Arabia and Japan, Southwell says the UK's relationships with Australia, Canada or India could be possibly parlayed into a next-generation fighter partnership.
Ultimately, whatever the shape of the outer mold line of the Tempest, the UK may be able to partner to share subsystems with other nations' next-generation fighters, says Claude Alber, Collins Aerospace's vice-president of Europe for customer and account management.
"Through industrial or national bilateral arrangement there could be cooperation in certain technology areas allowing for the differences in [concept of operations] on one side, but also allowing economic benefits to the development cost," he says. "This is a system of systems, so there are a lot of areas where technology collaboration could take place."