Among the design considerations for the Airbus A350 freighter is virtual elimination of the risk of 'tail-tipping' while the aircraft is parked.
Tail-tipping is typically the consequence of a loading or unloading error on aircraft, either passenger or freighter, which creates sufficient aft shift in the centre-of-gravity to cause the tail to sink towards, and possibly contact, the ground.
The A350F will be fitted with an aft main-deck cargo door – like the rival Boeing 777-8F – which will partly contribute to the stability, according to Airbus head of freighter marketing Crawford Hamilton.
"From the point of view of having the door there, the advantage is you can make loading a lot easier, because you're lowering the chance of any kind of tail-tip," he said, speaking to FlightGlobal ahead of the Farnborough air show.
"If you put something onto [the A350F] and move it straight up front, you start to get easier loading for the aircraft.
"That's something we've worked on big-time to make sure we can get the aircraft easily loaded, there's no weird rules [like having to load] something in the lower deck at the front and then something upstairs. It's simple, simple, simple."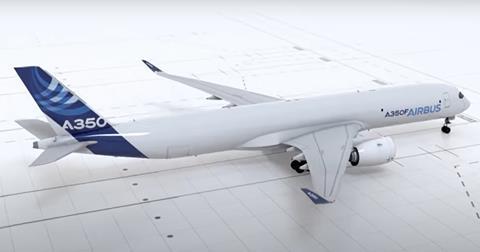 Hamilton adds that the decision to shrink the A350F fuselage compared with the A350-1000 – taking out five frames forward of the wing – was also influenced by static centre-of-gravity considerations.
"When you take the -1000 and take all the galleys out, and all the stuff up the back, there's a lot of weight there. If you take them all out the centre-of-gravity goes forward," he says.
"To achieve that ground base centre-of-gravity for easy loading, we took the [forward] frames out."
Hamilton believes this configuration makes a tail-tip on the A350F "pretty well impossible", but Airbus will nevertheless have design features to reassure customers further.
These will include alert systems, and the capability for a nose-gear tie-down, or a tail-prop if necessary.
Airbus has been advancing with supplier selections for the A350F, with recent assignments for the crucial cargo-loading system to Ancra International, main-door actuation technology to Curtiss-Wright, and manufacture of the interior barrier wall to Turkish Aerospace.