Qatar Airways will cut back – or even cancel – services to more than 30 destinations during the period of the World Cup football tournament in Doha this year, in order to provide sufficient capacity for other operators.
The aviation plan for the World Cup, which will take place in November-December, will involve re-activating the old Doha International airport which was superseded when the new Hamad International airport opened in 2014.
Speaking during a briefing at the Farnborough air show, Qatar Airways group chief Akbar Al Baker said the capacity changes were "a pain that we will have to take" but pointed out that this "is only for a period of 30 days".
He says the aim is to "spread" the airline's bank structure at the hub over the course of each day in order to create capacity for other carriers and charter flights. Qatar Airways will cut capacity on routes where the passenger demand for the World Cup is limited.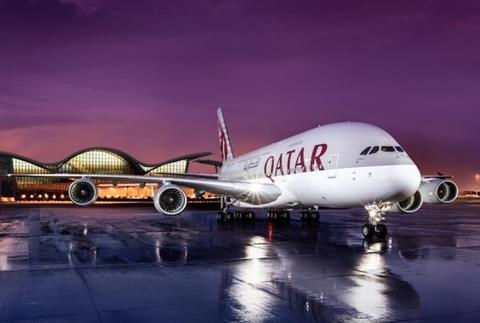 "If you look at our bank structures, like any hub, it has peaks several times a day – but in the middle there is nothing," says Al Baker.
"What we did was release capacity for countries [and] create room for those carriers that want to come as charters, to have space in the airport."
He says a three-runway operation will be created, with the older Doha airport is being "completely refurbished" in order to process passengers quickly.
Carriers including Saudia, Flydubai, Kuwait Airways and Oman Air will operate shuttle flights to Doha International, he adds.
"We are generating enough capacity to be able to cater for all the people who want to come as spectators to the games," says Al Baker.