Qatar Airways' single-aisle fleet modernisation remains in limbo after group chief executive Akbar Al Baker confirmed that a tentative Boeing 737 Max order had lapsed, and the situation with Airbus – which cancelled the airline's A321neo agreement – remains unresolved.
Speaking during a briefing at the Farnborough air show, Al Baker said the memorandum of understanding for 50 737 Max 10 jets, disclosed in January this year, has "lapsed", adding: "We couldn't agree to a lot of terms and conditions on the Max."
Al Baker states that he does not know whether the airline will go back to Boeing in a bid to revive the agreement.
The provisional deal for 737 Max 10s followed Airbus's sudden cancellation of 50 Qatar A321neos just days earlier.
This cancellation was directly linked to Qatar Airways' refusal to accept further deliveries of Airbus A350s over a skin-paint deterioration issue – an issue which Al Baker claims amounts to a safety concern, after the Qatari civil aviation authority grounded several A350s.
While Airbus has accepted that a number of Qatar A350s have experienced skin-paint problems, it vehemently rejects the regulator's justification for the grounding, insisting that the matter is one of cosmetics and not safety.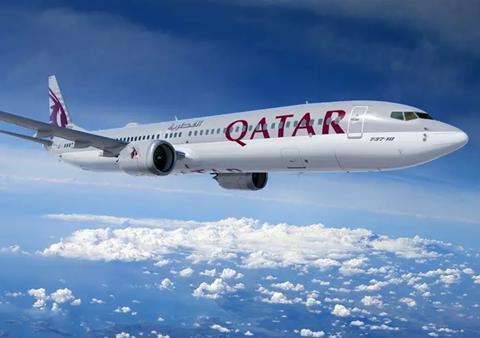 Airbus, which is challenging the Qatar Airways safety claim through legal channels in the UK, says it would prefer a settlement outside of court.
But Al Baker indicates that he is sceptical about the airframer's overtures.
"Airbus has publicly said trying to find solution, but this is only for public consumption," he argues. "When you really want to have a settlement, you need to come with a realistic settlement."
He says the carrier is "open" to an approach "provided that it is fair", considering the damage inflicted on the airline by the grounding.
"Airbus has not made a concerted effort," insists Al Baker "They've said it in public. But to have a settlement you need also a concerted effort to resolve a problem."
No other aviation regulator has expressed doubts over the A350's safety, and the judge in the legal case remarked in May that Airbus and the airline should work "pro-actively together" to convince the Qatari civil aviation authority to reverse its grounding decision – even if this hurt Qatar Airways' case.
But Al Baker maintains that the exposure of the lightning-protection is a serious issue.
"Unlike other regulators that rely on the airlines to do their checks – and certify those checks – the [Qatari authority], after checks were complete on our aircraft, sent inspectors to make sure we're fully compliant," says Al Baker.
"They are the people who will decide, after inspecting the conditions, if it is a safety issue or not."
Airbus has been formally cancelling individual A350-1000s for Qatar, as each new aircraft delivery is refused. As a result the carrier has 19 A350-1000s left on its backlog.
Al Baker says the carrier still has 21 Boeing 787s to be delivered, but 11 are "overdue", owing to issues affecting production of the type.
Qatar Airways will further expand its long-haul fleet with the new Boeing 777X and, although this twinjet is also experiencing development delays, Al Baker is optimistic over the schedule.
He says that the timeline has shifted to 2025, but he is "confident that they will deliver", adding: "I actually expect they could even improve on 2025."
Al Baker says: "We have a large number of [777X] options available which we will confirm as we grow.
"Because we still don't know what will be the solution of our capacity requirement as we grow. We have so much opportunity to grow that we are short of capacity."