Zero-emission propulsion specialist ZeroAvia is to co-operate with Scandinavian energy firm PowerCell Sweden to develop fuel-cell stacks designed for aviation applications.
Over the course of 2024-28 the Gothenburg-based company will jointly develop and deliver at least 5,000 proton-exchange membrane stacks for powertrain installation.
Such cells typically operate at relatively low temperatures. Protons from hydrogen fuel are separated from electrons – which are used to generate electrical output – and recombined with the electrons, and oxygen, at the cathode.
"Working with ZeroAvia has been a core plank of our entry into the clean aviation market, which is a very large future market for fuel-cell technology," says PowerCell Sweden chief Richard Berkling.
PowerCell, which also has German and Chinese offices, will establish a UK operation as part of the provisional agreement which will be finalised in the third quarter of this year.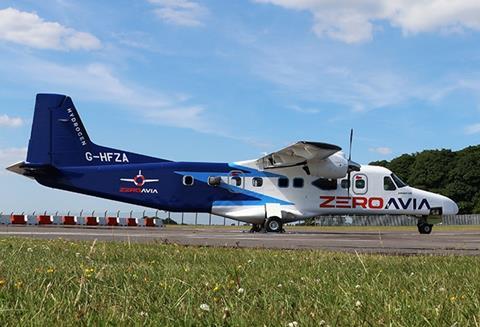 "By co-locating this operation we can ensure the full collaboration of both talented teams in tailoring hydrogen fuel-cell stacks for aviation," says ZeroAvia chief Val Miftakhov.
PowerCell has been supplying low-temperature cells as part of ZeroAvia's HyFlyer II programme, which is centred on developing zero-emission 19-seat commercial aircraft.
ZeroAvia's activities under this programme have included modifying Dornier 228s to test a 600kW powertrain designated the ZA600.