Flight demonstrations of the US Air Force Research Laboratory's (AFRL's) Golden Horde initiative, an effort to network precision glide bombs and decoys into collaborative attack teams, may not start in late 2020 as originally planned.
The Golden Horde effort is one of the US Air Force's (USAF's) top three science and technology development initiatives, part of the service's Vanguard programme. The other two high priorities are the new Navigation Technology Satellite 3 and Skyborg, an artificially intelligent mission control software program for loyal wingman unmanned air vehicles.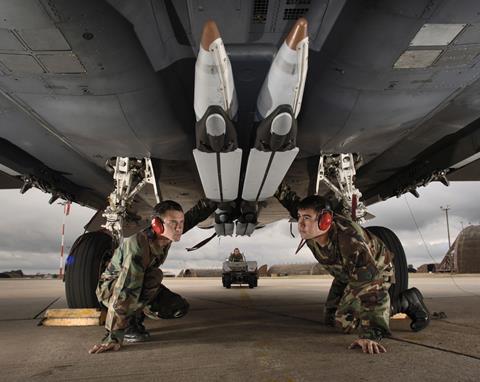 The USAF wants to network a glide bomb, called the Collaborative Small Diameter Bomb I, with a Collaborative Miniature Air-Launched Decoy. The bombs and the decoys are radio linked to share information and work together during an attack.
The AFRL had planned to start limited demonstrations of Golden Horde in late 2020, but now says it is not certain of its schedule, due to pending discussions with the service's chief weapons buyer: Will Roper, assistant secretary of the USAF for acquisition, technology and logistics.
"We don't have a timeline, but I did have a meeting earlier today on that and we'll be discussing the way ahead with Dr Roper tomorrow, so [there is] not a timeline on a demo soon," Brigadier General Heather Pringle, commander of AFRL, said during the Air Force Association's virtual Air, Space & Cyber Conference on 16 September.
It is also not clear if the capstone test event planned for the fall of 2021, when the glide bombs and decoys would work together to attack simulated targets, will take place as scheduled.
"We're finding in that first generation of Vanguards that as we actually engage the [programme executive officers] and start to look at notating acquisition strategy, it starts to reshape the programme," says Chris Ristich, director of the USAF strategic development planning and experimentation office at the AFRL. "It can change our schedule. It can change the deliverables to some extent."
In particular, AFRL officials are talking with Roper about whether weapon networking capabilities developed within Golden Horde should be applied to just a few weapons, or a much wider array of munitions.
"The discussion that we're having these days is, 'Are we looking at simply transitioning a single capability to a single weapon, versus how do we get this into our entire ecosystem of weapons development and make it a foundational element of all of our future weapons?'" says Ristich.
If the USAF wants to network more weapons in its inventory it would need build a more robust design, experiment and test programme, he adds.
Ultimately, the service is looking for a way to get past the advanced anti-aircraft defences of China and Russia, while hitting targets more economically. It believes networked weapons would accomplish that.
"When each weapon shares measurements of a target's location, combining this information reduces errors since it creates a more accurate target location for all to reference," says the AFRL. "Ultimately, this supports the use of lower-cost sub-systems in place of more expensive systems without sacrificing capability."
Additionally, the bombs and decoys' ability to collaborate in a swarm would overwhelm a target, such as a surface-to-air missile battery, making it difficult for an adversary to fight back.
"Networked, collaborative and semi-autonomous weapons are advantageous since they observe and react to the enemy in real time, helping weapons overcome adversary defences before the enemy can respond with effective countermeasures," says the AFRL. "This capability will enhance mission success rates by providing adaptability, flexibility and responsiveness in attacks and by increasing the speed and accuracy of target destruction."
The attack team draws upon a playbook of tactics to suit changing situations. The AFRL cautions that the automation is preprogrammed and is not driven by artificial intelligence. "The system only selects from set plays and cannot violate defined rules of engagement," says the laboratory.