The US Air Force Research Laboratory (AFRL) is aiming to accelerate the pace at which it adds weapons to its Golden Horde network by using a simulation software called Colosseum.
The Golden Horde project is an effort to develop a system of networked, autonomous weapons. Initially, the US Air Force (USAF) planned to integrate GBU-39/B Small Diameter Bombs and Miniature Air Launched Decoys.
It successfully tested four Collaborative Small Diameter Bombs on 19 February. But the AFRL now says the Collaborative Miniature Air Launched Decoy portion of the development programme has been cancelled.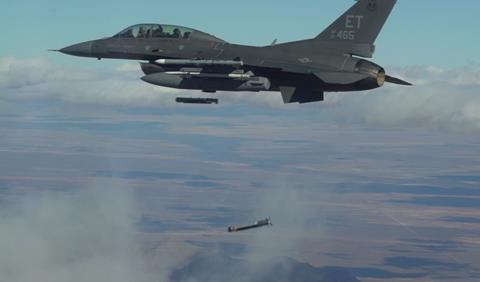 "The Golden Horde programme is now pivoting from inventory weapon demonstrations to developing and delivering a multi-tier digital weapon ecosystem: a live, virtual, constructive testing and demonstration capability known as the Colosseum," the research laboratory said on 5 March.
"The Colosseum will be a fully integrated simulation environment with weapon digital twins – or a real-world weapon and a virtual clone – to more rapidly test, demonstrate, improve and transition collaborative autonomous networked technologies," it adds.
The emphasis on developing and testing weapons digitally follows a similar digital engineering process used to develop the USAF's next-generation advanced trainer, the Boeing T-7A. Boeing says digital engineering helped move the jet from design to first flight in just 36 months. Boeing manufacturers the Small Diameter Bomb and is playing a support role on Golden Horde, integrating networking technologies into the Collaborative Small Diameter Bomb variant.
The Collaborative Small Diameter Bomb technology development team is led by the AFRL and Scientific Applications & Research Associates, which as the prime contractor is providing the home-on-GPS-jam seeker. L3Harris is providing the "Banshee 2" networked software defined radio and Georgia Tech Research Institute is providing the radio antenna, collaborative autonomy processor and algorithms.
The Golden Horde programme aims to allow weapons to communicate with each other, identify targets and follow pre-set rules of engagement. While initially focused on the GBU-39/B Small Diameter Bomb, a glide bomb that has a range of more than 40nm (74km), it now appears the AFRL is aiming to network a host of weapons.
"Moving ahead, what we are looking to do is a beginning phase of an open collaborative autonomy architecture," Brigadier General Heather Pringle, commander of the AFRL, said during a webinar at the Air Force Association's Aerospace Warfare Symposium on 24 February. "This government-owned reference architecture is really going to be an environment where more players can come and compete their own versions of what autonomous collaborative weapons should be."
The initial Golden Horde demonstration in December partially failed due to a software issue. The February test was the first successful real-life demonstration of the concept. The AFRL says a third and final Collaborative Small Diameter Bomb test is scheduled for this spring.