In late October 2020, the Boeing KC-46A Pegasus in-flight refuelling tanker programme reported a $67 million loss due to coronavirus disruptions and production inefficiencies in the third quarter. It was the latest loss in a long series of financial charges in the troubled tanker programme's short history. Yet, Boeing chief executive David Calhoun saw reasons for optimism.
"The tanker has been a drag on us for like three or four years in every way you can think of with respect to investors, but we are beginning to clear the hurdle with our customer with respect to its performance in their fleet and then their need for that tanker," Calhoun said during the company's third-quarter earnings call in October. "So that whole relationship, I believe, will begin to transition next year. And as opposed to being a drag on our franchise, as it's been, I believe it will become a strength in our franchise."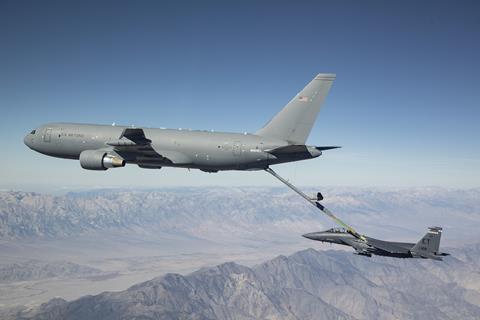 Three months later the company announced another loss: a $275 million charge in the fourth quarter. That pushed 2020 losses to $1.32 billion – the largest annual sum in the programme's short history.
The KC-46A programme is about $5.1 billion in the hole and there are questions about whether Boeing can make it profitable. The company declined to comment to FlightGlobal.
Analysts say the task is not yet impossible, but it requires three things: a lot of time, a higher volume of aircraft sales and steady MRO work. Boeing also will need to stop the bleeding – ie financial losses.
PLAYING CATCH UP
In many ways, Boeing's losses on the US Air Force (USAF) KC-46A programme were to be expected. New programmes often start out in the red due to upfront investments in research and development, manufacturing equipment and facilities, plus materials. What's more, Boeing's aggressive low-price bid for the KC-X programme was, by design, anticipating initial losses that would be (in theory) incrementally recovered through large volume sales to the USAF and foreign militaries, as well as decades of follow-on MRO work.
Boeing won the USAF's tanker contract in 2011 by defeating an Airbus Defence & Space A330 multi-role tanker transport (MRTT) bid. The programme of record called for replacing a portion of the service's ageing fleet of Boeing KC-135 Stratotankers and McDonnell Douglas KC-10 Extenders with 179 new KC-46As. Boeing has valued the work at $30 billion.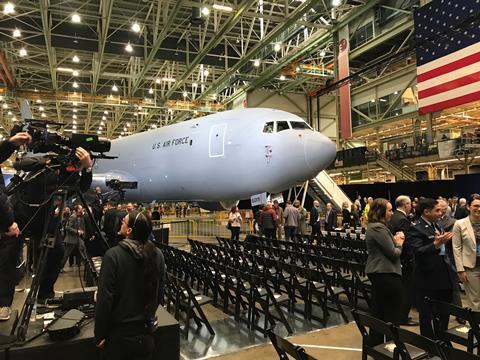 The programme kicked off in 2011 with a $4.4 billion fixed-price incentive contract to design and build four test aircraft. Those test aircraft would be later modified into a final production configuration. Crucially, the US government built a provision into that contract that covered 60% of cost overruns up to a $4.9 billion ceiling. Beyond that amount, Boeing was on the hook.
Boeing was later issued follow-on production contracts to deliver the first 18 KC-46A production examples by August 2017. However, the company missed its delivery deadline due to several issues, including problems getting Cobham aerial refuelling pods through the US Federal Aviation Administration certification process. More troublesome were flaws with the KC-46A's Remote Vision System (RVS) for the boom, which produced warped or washed out images.
Nonetheless, anxious to retire its Eisenhower-era KC-135, the USAF decided to accept the first KC-46A – even with outstanding problems – in January 2019. Boeing was only given partial payment because the tanker was not fully functional.
Boeing planned to quickly catch up to its contractual obligation by delivering tankers at a rapid rate that year and resolving design issues. But those ambitions were thwarted when the USAF discovered a list of new problems.
Delivery of tankers was stopped in February, and then again in March of 2019, when foreign object debris (FOD), such as trash and forgotten tools, were found inside delivered tankers. The discovery of FOD continued into the summer as the USAF criticised Boeing for "cultural issues" related to its manufacturing quality.
In September 2019, the USAF discovered that KC-46A cargo floor restraint devices were jiggling to an unlocked position in flight. In response to safety concerns, the service banned passengers and cargo from its KC-46A fleet. Then, in March 2020, fuel was discovered leaking from the KC-46A's tanks.
Problems with the RVS, cargo locks and leaky fuel tanks were labelled by the USAF as Category 1 deficiencies. Category 1 deficiencies are defined by the service as issues "which may cause death or severe injury; may cause loss or major damage to a weapon system; critically restricts the combat readiness capabilities of the using organisation; or results in a production line stoppage".
Those deficiencies, as well as other discovered problems, delayed delivery of tankers to the USAF. The situation worsened when production restrictions caused by the coronavirus pandemic cut the pace of delivery from 28 examples in 2019 to just 14 examples of the tanker in 2020.
With deliveries delayed and tankers less than fully functional, Boeing has not received payments as anticipated. As a result, the KC-46A programme's losses have reached about $5.1 billion.
'LEMONS INTO LEMONADE'
Reflecting on the first decade of the KC-46A programme, USAF General Jacqueline Van Ovost, commander of Air Mobility Command, told reporters on 1 February that the USAF is making the best of the situation.
"We're making lemonade out of lemons, with the capacity and the performance out of Boeing early on in this programme," she said.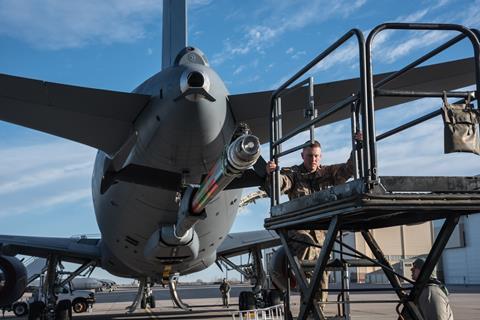 Still, Van Ovost says the programme turned a corner in 2020. A particularly important milestone was an agreement between the USAF and Boeing to redesign the boom cameras, dubbed RVS 2.0.
"I expect to see a fully integrated Remote Visual System 2.0 towards the end of '23, and we will be also then at that point testing it and then cutting it into production in '24," she says. "I suspect a fully operational capable airplane, capable of all the missions; which is aeromedical evacuation, airlift and air refuelling – both drogue and probe – for our normal and our special missions in FY24."
The USAF had accepted 42 tankers as of 1 February, Van Ovost says. Air Mobility Command expects to accept no more than two tankers per month going forward. Boeing is now on contract for 94 out of 179 tankers in the KC-46A programme of record.
Resolving deficiencies and getting delivery volumes up ought to help increase revenue from the KC-46A programme to Boeing. In particular, resolving deficiencies – and winning the USAF's stamp of approval – ought to better the company's international sales pitch for the tanker.
Foreign Military Sales (FMS) of the KC-46 have been lacklustre so far. Only Japan has ordered the tanker, committing to buy four aircraft.
Beyond those firm orders, Israel has requested up to eight KC-46 tankers. The potential FMS deal was approved by the US Department of State in 2020, but the purchase agreement has yet to be signed.
Part of the KC-46's problem is that its main rival, the A330 MRTT, is fully functional and has dominated international sales since its first delivery in 2011. Airbus says it has received orders for 61 examples of the MRTT, of which it has delivered 46 aircraft. Customers include Australia, France, NATO, Saudi Arabia, Singapore, South Korea, the United Arab Emirates and the UK.
"That's just the cost of being late," says Richard Aboulafia, vice-president of analysis at Teal Group. Moreover, there aren't many militaries that need in-flight refuelling tankers, he says. "Very few people have the geographic and strategic challenges that the US faces," Aboulafia says.
The Teal Group projects Boeing will produce 27 examples of the KC-46A for international buyers between 2022 and 2029. The company is on contract to deliver all 179 tankers in the KC-X programme to the USAF by 2029.
X, Y AND Z
Ultimately, the USAF is working to replace its entire fleet of Cold War tankers: 396 KC-135s and 59 KC-10s. That means after the 179 KC-46As are delivered there will still be hundreds of decades-old aircraft left in the fleet.
The service had long planned to replace some of those with its KC-Y programme. However, thinking on the KC-Y programme has changed as threats from China and Russia have grown in recent years. For instance, it is believed that one of the main missions of China's stealthy Chengdu J-20 is attacking USAF combat enablers such as tankers and airborne early warning and control aircraft.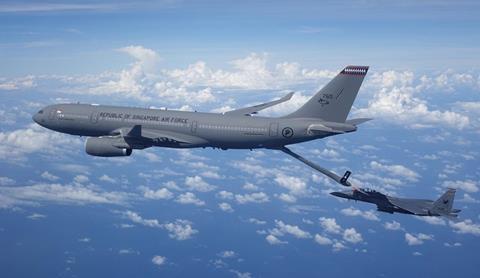 Thus, the KC-Y programme has turned into a "bridge tanker", says Van Ovost. The service expects a full and open competition for a non-developmental tanker, likely contested between Airbus and Boeing. "That's meant to be a bridge until we can determine the final requirements of what we call Advanced Air Refueling, which you would call KC-Z," says Van Ovost.
KC-Z may be radically different from commercial derivative tankers of the past, perhaps incorporating stealth characteristics. The USAF is still determining requirements for the advanced tanker, says Van Ovost. "Is it going to be autonomous? Is it going to be pilot on the loop, pilot in the loop capability?" she says. "Is it going to be small? Is it going to be large? What kind of self-protect is it going to have? What kind of electromagnetic spectrum capability is it going to have, to both protect itself and enhance the lethality of the Joint Force while it's out there?"
Yet, before the KC-Z programme comes along, the KC-Y seems to present the best possible future sales opportunity for the KC-46A.
"It's very unlikely that once they got this programme belatedly going after years of trying that they're just going to stop at 179," says Aboulafia. "What are the odds that they're going to stop and re-compete the next phase of the tanker recapitalisation programme? I'd say pretty slim."
Another programme could create uncertainty, additional costs and delays, he notes.
Ultimately, KC-Y may be one of the best ways for Boeing to push the KC-46A programme into the black, as it would generate revenue from airframe sales and then later would generate MRO revenue.
Ken Herbert, managing director of equity research with Canaccord Genuity, says what the KC-46 programme needs to become profitable is time to gather incremental sales – from the USAF or interntional customers – and then follow-on sustainment work. Most investors view the worst of the tanker programme's losses as behind it and would be surprised if there were hundreds of millions of dollars of financial charges in the future, he says.
"Generally, [investors] assume that eventually the market will evolve and Boeing will eventually, from an execution standpoint, get things back on track, or continue to show improvement which they have been doing," he says. "If you think about a fleet someday, several hundred of these aircraft [are] out there, and they're well into their lifecycle, and you've got significant sustainment work and everything else, then I can see a path to profitability on this programme."