The US Air Force (USAF) grounded all of its Boeing B-1B Lancer bombers on 20 April after a fuel pump issue was discovered.
The ageing fleet has suffered sustainment issues in recent years. Recently, the USAF had started retiring a group of 17 B-1Bs as part of an effort to save money by avoiding doing expensive repairs on the jets.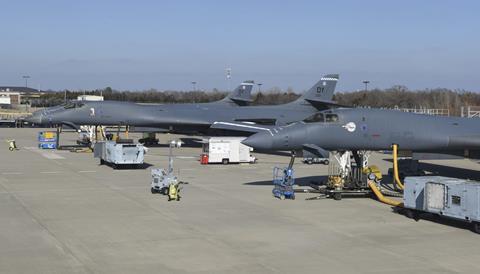 The most recent issue involves the B-1B's augmenter fuel pump filter housing. USAF Global Strike Command commander, General Tim Ray, ordered a "safety stand-down" of the B-1B fleet on 20 April.
"During the inspection process following a B-1B ground emergency on 8 April at Ellsworth AFB, South Dakota, a discrepancy with an augmenter fuel pump filter housing was discovered," Global Strike Command said on 26 April. "As a precautionary measure, the commander directed one-time inspections on all B-1B aircraft to resolve this issue. After further analysis, the commander stood down the fleet because it was determined a more invasive inspection was needed to ensure the safety of aircrews."
The USAF plans to return aircraft one by one to flight operations once deemed safe to fly by service officials. It did not disclose the exact nature of the problem with the augmenter fuel pump filter housing.
The USAF originally acquired 100 examples of the Cold War-era B-1B from manufacturer Rockwell, but has retired the aircraft in phases over the past two decades.
Initially, in 2001, the service decided to retire 33 to pay for modernisation efforts of the time.
Most recently, in February, the USAF announced plans to retire 17 of the supersonic bombers to free funds needed to support a smaller remaining fleet of 45 B-1Bs. The reduction in fleet size is also intended to free cash to purchase the in-development Northrop Grumman B-21 Raider stealth bomber.
Recent retirements were driven by wear and tear caused by slow flying during War on Terror bombing runs. The B-1B was designed to fly near or in excess of Mach 1, with its wings swept back. But, during combat missions over Iraq and Afghanistan the bomber routinely flew slowly, with wings in the forward position. That overstressed its wings, causing cracks.
The B-1B fleet has an average age of 33.6 years, according to Cirium fleets data. The USAF is the only operator of the bomber in the world.
The USAF has come to rely on the B-1B to project power across the world, using the bomber for flights near the borders of Russia and China.