Argentina, which defaulted on its national debt in May, has decided to dip into its military pension and retirement fund to restart development of its new trainer aircraft, the IA-100.
The Argentinian defence ministry also has announced the aircraft would be called "Malvina", the country's name for the Falkland Islands.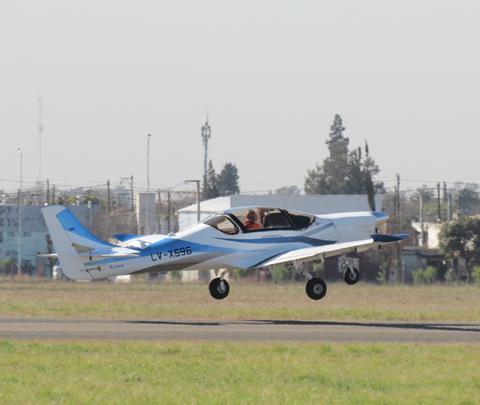 A new prototype of the two-seat trainer, modified to the Argentinian air force's requirements, will be funded with a $2.5 million loan from the Argentinian military pension and retirement fund, according to the country's defence ministry. Work on a previous IA-100 demonstrator aircraft started in 2014, but ceased in 2016 after its government contract was suspended.
The propeller aircraft will continue to be developed by the Argentina Aircraft Factory, a government-owned aerospace manufacturer. The defence ministry notes the IA-100 will be the first serial production aircraft from the Argentina Aircraft Factory since the IA-63 Pampa III, a jet trainer which was made in partnership with Germany's Dornier in the 1980s.
Buenos Aires' decision to pull money from the pension and retirement fund to develop a home-grown aircraft comes after the country defaulted on its national debt in May, its second default since 2000.
"It is a creative and innovative initiative that constitutes a starting point so that later other productive investments can be financed in the same way that we are carrying out this one," says Agustin Rossi, defence minister. He adds that it is "a more-profitable investment than depositing that money in a fixed term in dollars, it also generates the strengthening of the industry and the increase of jobs".
The investment is meant to bolster the country's fledging aerospace industry.
"It is a turning point for the factory, because it has not manufactured a new aircraft for a long time, and this will be a completely new aircraft. It is emblematic for our management and for the factory," says Rossi. "We launched this initiative at a time when the aeronautical industry is in deep crisis throughout the world, but in Argentina we decided to bet heavily on this industry, which is one of the most important in the defence industry."
The aircraft's name, Malvina, is "a woman's name and in homage to our islands", he adds. Argentina calls the UK-dependent Falkland Islands territory, which is located off its southeastern tip, the Islas Malvinas.
In 1982, Argentina invaded the islands but was expelled by a British naval task force. Since, the territory has been a sore spot and claims over the sparsely populated landmasses has been a point of nationalistic pride for the South American country.