The Brazilian air force has chosen defence contractor Avibras Industria Aeroespacial to develop a family of air-launched long-range cruise missiles.
The service signed a memorandum of understanding with Avibras to develop the weapon, called the MICLA-BR, it said on 23 November.
The air force will share its expertise and missile needs for the project, but has not disclosed the effort's cost.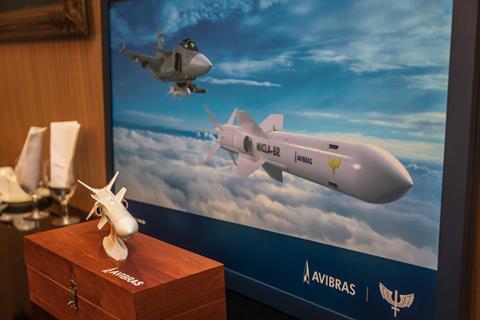 Privately-owned Avibras Industria Aeroespacial is based in Sao Jose dos Campos, Brazil. The company designs and makes a variety of military equipment, including rocket artillery, light-armoured vehicles, surveillance unmanned air vehicles, air-defence radar, surface-to-air missiles, mobile command trucks and air-to-ground rockets.
The manufacturer is also working on a truck-launched cruise missile called AV-TM 300, development of which is to be complete by the end of 2020.
The MICLA-BR is an adaptation of the AV-TM 300. The air-launched variant lacks the ground-launched type's fold-out wings, but otherwise looks similar. The Brazilian air force has said it wants the cruise missile to have a range of 162nm (300km).
The air-launched cruise missile project is part of the Military Strategic Plan for Aeronautics (MICLA-BR), and in 2019 was among the Brazilian air force's 18 strategic projects, others being the Saab F-39 Gripen fighter and Embraer KC-390 transport.
"Within [the Brazilian air force's] strategic projects, this is one of the most important," says Kanitz Damasceno, Lieutenant Brigadier General with the air force. "It will be the realisation of a project for the actual use of a warplane, which is the F-39 Gripen."
It is unclear for which missions the Brazilian air force intends to use the MICLA-BR. The service has not disclosed its purpose, but said the missile could be used in "various scenarios". Typically, cruise missiles are used early in war campaigns to take out critical targets such as enemy radar sites, command and control stations, and communications nodes.
The Brazilian air force says it wants to create a family of similar missiles from what it learns by designing and building MICLA-BR.
The number of missiles the service plans to buy was also not disclosed. Brazil has few enemies, near or abroad, so is unlikely to buy large numbers of the new weapon. It appears the country wants to make money and boost local hiring by exporting the weapon to foreign militaries.
"The benefits to be generated with this initiative go beyond the increase in the defence capacity of our nation, since it will contribute to the promotion of the industrial defence base, generating jobs, technological evolution, and even foreign exchange through the possibility of exporting technological products of high added value," the Brazilian air force says.