BAE Systems was awarded a $4 million contract from the US Navy (USN) for a quick-turnaround demonstration of a new radio frequency countermeasure system for the Boeing P-8A Poseidon maritime patrol aircraft.
The countermeasure system is made of a "small form factor jammer, a high-powered amplifier and the AN/ALE-55 Fiber-Optic Towed Decoy", says BAE on 5 January. Such decoys are towed behind an aircraft and jam incoming radar-guided missiles. As a last resort, the decoy will mimic the radar cross-section of the aircraft being protected in a ruse to draw away an attack.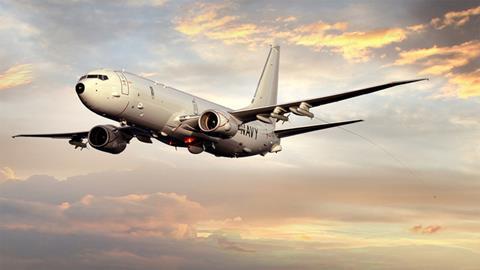 BAE will design, build, integrate and ship the countermeasure system in about five months, with two months of flight testing on the P-8A platform after that. The company says testing will begin early in 2021, indicating the execution of the contract is already well under way.
"A process that used to take 18 to 24 months has been scaled to five or six months, which is remarkable, as is deploying this new self-protection capability," says Don Davidson, director of the advanced compact electronic warfare solutions product line at BAE.
BAE did not disclose why the USN needed the countermeasure system so quickly. The P-8A is a maritime patrol aircraft used for hunting submarines and surface ships.
The company is manufacturing the system at its facilities in Nashua, New Hampshire.
In November 2019, the USN picked Raytheon and BAE to develop and demonstrate competing versions of a dual-band towed decoy for its Boeing F/A-18E/F Super Hornet fleet.