The administration of US President Joe Biden wants Congress to approve more than $56 billion in new spending for what it describes as "lethal air forces".
The request, included as part of the administration's proposed fiscal year 2023 defence budget, would fund the purchase of 61 Lockheed Martin F-35 Joint Strike Fighters, 24 Boeing F-15EX fighters and 15 Boeing KC-46 Pegasus aerial refuelling tankers.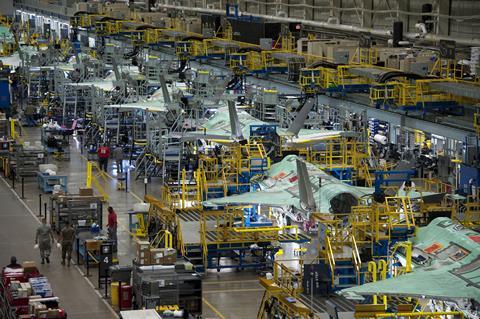 The request also includes nearly $2 billion for the US Air Force's (USAF's) "Next Generation Air Dominance" programme.
Little is known about the service's sixth-generation air superiority fighter, but it is projected to replace the Lockheed F-22 sometime in the 2030s.
The $56 billion request for new airframes makes up 7% of the overall $773 billion proposed for defence spending. That would represent a 4% increase in overall spending compared to the US government's FY2022 budget.
In addition to direct spending on aircraft, the proposed budget includes $35.5 billion in funds for overall USAF readiness.
The administration also requested nearly $25 billion for a range of missile defence programmes, and $7 billion for precision long-range weapons, to include hypersonic missiles. Such weapons are typically defined as being able to fly at speeds exceeding Mach 5, making them difficult to detect and defend against.
Speaking before Congress in 2021, chairman of the Joint Chiefs of Staff General Mark Milley called a Chinese hypersonic missile test "very concerning" and described the event as being very close to a "Sputnik moment" for the USA, referring to the surprise 1957 launch of humanity's first satellite by the Soviet Union.
Russia has also been developing hypersonic missile platforms and claims to have tested one such weapon during the ongoing war in Ukraine. The missile, known as the "Kinzhal", was reportedly fired from an RAC MiG-31 fighter and used to attack a ground target, according to Russian defence officials.
The spending plan laid out by the Biden administration is still aspirational. The US Congress must ultimately write and approve all budgets for federal spending and in some cases has different priorities than the administration.