Boeing delivered 14 KC-46A in-flight refuelling tankers in 2020 to the US Air Force (USAF), exactly half of what it delivered the year before.
The company struggled in 2020 to deliver tankers on time to its main customer due to design and manufacturing problems, as well as interruptions to production caused by the coronavirus pandemic.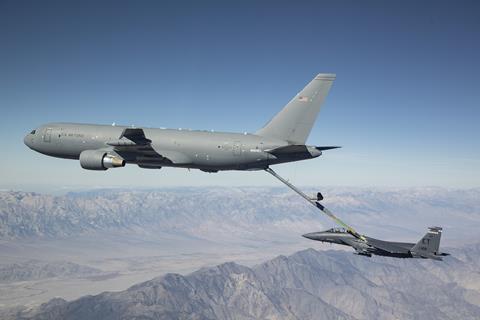 Despite issues, the USAF awarded Boeing a $1.7 billion contract for 12 additional KC-46A tankers, the company said on 12 January. The manufacturer has delivered 42 tankers to four different bases since January 2019.
Boeing is now on contract for 79 KC-46A tankers. The company is also on contract for four tankers for Japan, the first example of which is under construction at its Everett, Washington facility.
Last October, the manufacturer took a $67 million loss on the KC-46A programme, bringing total losses to about $5 billion. The aircraft has been plagued by manufacturing and design problems, especially a refuelling boom camera that produces warped or washed out images. That camera system is being redesigned to the tune of $551 million – all at Boeing's expense – because the programme is funded through fixed-price contracts.
Nonetheless, Boeing said in October that it believed the programme was turning a corner.
"The tanker has been a drag on us for like three or four years in every way you can think of with respect to investors. But we are beginning to clear the hurdle with our customer with respect to its performance in their fleet and then their need for that tanker," said David Calhoun, Boeing chief executive, on a third-quarter earnings call. "So that whole relationship, I believe, will begin to transition next year. And as opposed to being a drag on our franchise, as it's been, I believe it will become a strength in our franchise."


Garrett Reim is a military aviation reporter based in Los Angeles. He reports on military aircraft manufacturers and operators in North and South America. Send him your confidential tips, press releases and story ideas via garrett.reim@flightglobal.com. Follow him on Twitter via @garrettreim.