Boeing delivered the first F/A-18E/F Super Hornet with a 1,500h service-life extension to the US Navy (USN) on 21 January.
The US manufacturer plans to deliver the second service-life-extended Super Hornet by the end of February, with a third to be handed to the service in April, it says on 6 February.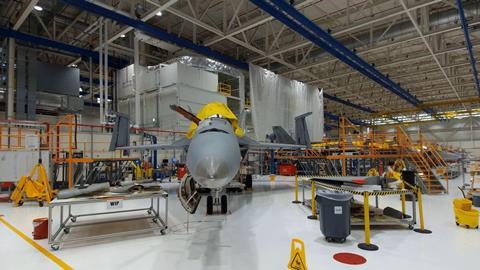 The Service Life Modification programme initially extends the aircraft's usability from 6,000h to 7,500h.
Boeing and the USN plan to bring back the fighter aircraft for additional modifications starting in 2022. Those follow-up modifications will increase aircraft service life to 10,000h and integrate Block III upgrades, which include conformal fuel tanks, a faster mission computer and a more-robust communications system.
The Block III upgrades will also eventually give the Super Hornet the ability to control Loyal Wingman unmanned air vehicles – a new class of robotic combat aircraft the US Department of Defense is eyeing as an inexpensive way to boost its firepower.
Boeing has inducted 15 F/A-18E/Fs into the Service Life Modification programme on production lines in St Louis, Missouri and San Antonio, Texas. The company plans to deliver five more of the fighters in 2020.
It takes the manufacturer about 18 months to modify a single F/A-18E/F, but the USN expects to reduce the turnaround time to 12 months by fiscal year 2023. The service says it expects a "learn-as-you-go" approach will improve efficiency of the programme.
The Service Life Modification programme started in 2018 and is expected to continue until 2040. The production rate is anticipated to peak at 40 aircraft annually.
Boeing also won a contract from the USN in March 2019 to manufacture 78 new-build F/A-18E/F Super Hornets with service-life extensions and Block III upgrades incorporated.