Boeing has delivered the first two new-build examples of the F/A-18 Block III Super Hornet to the US Navy (USN) for flight testing.
The company has transferred one single-seat E model and a two-seat F example to the service, it said on 17 June.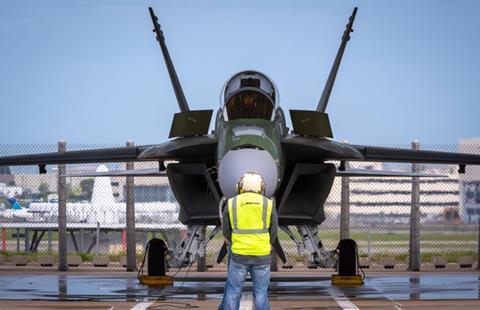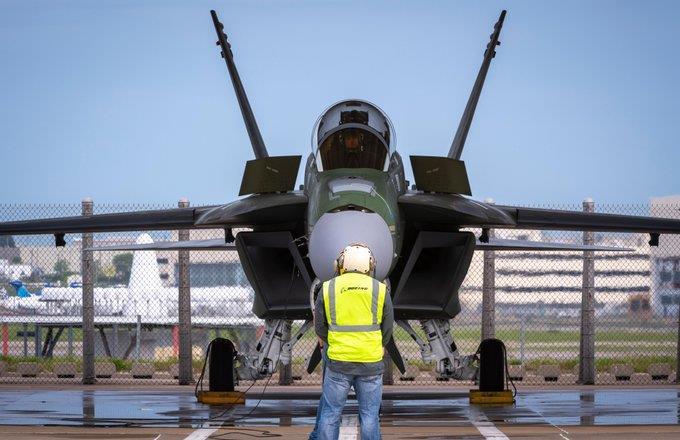 The USN plans to use the fighters to check out mission systems, familiarise aircrew with new systems and test suitability for aircraft carriers.
The new-build Block III Super Hornets differ from the earlier Block II variant in several ways. The jets have a 10 x 19in Advanced Cockpit System touchscreen display; a new higher throughput, lower latency Tactical Targeting Network Technology (TTNT) datalink; conformal fuel tanks that carry 1,590kg (3,500lb) more fuel; a service life that is extended from 6,000 to 10,000 flight hours; and a Distributed Targeting Processor Network (DTP-N), a mission computer that Boeing claims has 17 times more processing power than hardware currently used.
The computing power and data link in the Block III variant is touted by Boeing as keeping the Super Hornet relevant in an age of stealth fighters, artificial intelligence and unmanned air vehicles.
In particular, the company points to the new computer as a means to continually upgrade the jet.
"What this does is provide the computing power and churn that we need for all the future algorithms that are going into this jet to deal with the complex battlespace ahead of us," says Jennifer Tebo, Boeing director of F/A-18 development, who notes that better software could aid naval aviators in making decisions faster.
The DTP-N computer is also built around open-system standards, she says.
"It was built with standards that are published, such that third party applications can be integrated onto the jet more quickly," Tebo says. Militaries can use "that to go out and make improvements outside of our normal software development process", she adds.
The USN will test the two F/A-18E/F test aircraft over the next 12 months. In 2021, Boeing plans to deliver fully-operational Block III jets to the service. The navy has ordered 78 new-build Block IIII Super Hornets, which are to be delivered at a rate of two per month through 2024.
The navy also plans to upgrade its fleet of 540 F/A-18E/F Block II Super Hornets to the Block III standard as part of a service life-extension programme, having shot down an idea of buying further new-build examples. However, Boeing says it hopes the USN will reconsider and notes that final decisions on the force structure of the fleet have not been made.
Boeing delivered the first F/A-18E/F Super Hornet to receive the initial phase of service life-extension in February 2020. Its broader upgrade activity will continue until the mid-2030s at a cost of about $7.8 billion.


Garrett Reim is a military aviation reporter based in Los Angeles. He reports on military aircraft manufacturers and operators in North and South America. Send him your confidential tips, press releases and story ideas via garrett.reim@flightglobal.com. Follow him on Twitter via @garrettreim.