Despite receiving orders for dozens more KC-46A Pegasus in-flight refuelling tankers in recent months, Boeing only delivered two of the aircraft in the first quarter of 2021.
The first quarter was the second-slowest KC-46A delivery pace by Boeing since the second quarter of 2020, when only a single jet was delivered, according to delivery data released by the US manufacturer on 13 April.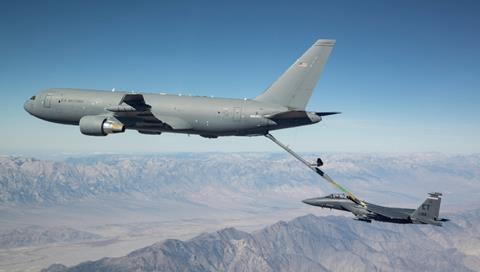 Boeing did not respond to questions about why deliveries have slowed to a trickle, but issued a statement.
"We are working to deliver KC-46 aircraft at a pace that meets the needs of the US Air Force," the company says. "As we, along with our industry, continue to navigate through the pandemic, Boeing is aligned closely with the air force to deliver on our commitments."
The US Air Force (USAF), the KC-46A's leading customer, said "there are no serious or systemic issues delaying acceptance of KC-46s from Boeing". It notes that the company has been recently "unable to present aircraft in a delivery-ready configuration to support planned ferry dates in March and April", but does not give further explanation. The service referred questions about the production process back to Boeing. The USAF expects 14 KC-46A deliveries in 2021.
The programme has struggled to deliver jets on time due to design flaws, production problems and interruptions from the coronavirus pandemic. Boeing is contractually obligated to fix many of those issues at its own expense, a commitment that has put the programme about $5.1 billion in the red, according to fourth-quarter 2020 earnings results.
Boeing delivered the first KC-46A in the first quarter of 2019, and deliveries surged early, hitting nine in the third quarter of 2019 as it worked to make up a roughly 18-month schedule delay. Since 2019, Boeing has delivered only a handful of aircraft quarterly.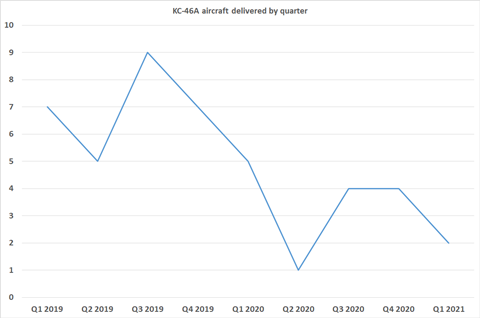 Deliveries slowed partly because the USAF found lingering problems with the jets. The service has refused to accept aircraft in some instances, such as in response to foreign object debris being left inside fuselages.
The most troublesome issue has been the tanker's refuelling boom camera, called the Remote Vision System, which produced warped or washed-out video feeds, a hazard that could cause operators to accidentally crash the boom into aircraft waiting to receive fuel. The camera is being redesigned at Boeing's expense. In the meanwhile, the USAF is using the KC-46A on limited operations and making up for the refuelling capacity gap by keeping older tankers, such as the Boeing KC-135, in its fleet longer than planned.
Boeing had expressed optimism as recently as last October that the troubled tanker programme was turning a corner.
"The tanker has been a drag on us for like three or four years in every way you can think of with respect to investors, but we are beginning to clear the hurdle with our customer with respect to its performance in their fleet and then their need for that tanker," Boeing chief executive David Calhoun said during the company's third-quarter earnings call in October 2020. "That whole relationship, I believe, will begin to transition next year. And as opposed to being a drag on our franchise, as it's been, I believe it will become a strength in our franchise."
The USAF boosted the programme in January when it gave Boeing two contracts for 27 aircraft, with a combined value of $3.8 billion. Boeing holds contracts with the service to produce 94 KC-46As and had delivered 44 aircraft as of the end of the first quarter 2021. The USAF's programme of record calls for 179 examples of the tanker.
Outside of the USAF, Boeing has struggled to find customers for the KC-46A. Japan holds contracts to acquire four of the aircraft, and Israel signed a letter of acceptance for two KC-46As in February.
However, in April, close US ally Canada told Boeing the tanker did not qualify for its Strategic Tanker Transport Capability project – Canada's programme to replace four Airbus Defence & Space A310 CC-150 Polaris aircraft. Instead, Ottawa qualified the rival A330 multi-role tanker transport.
Update: The article was changed on 13 April with the addition of a statement from Boeing and on 21 April with comments from the US Air Force.


Garrett Reim is a military aviation reporter based in Los Angeles. He reports on military aircraft manufacturers and operators in North and South America. Send him your confidential tips, press releases and story ideas via garrett.reim@flightglobal.com. Follow him on Twitter via @garrettreim.