Despite assurances last fall from Boeing's chief executive that the KC-46A Pegasus in-flight refuelling tanker programme had turned a corner, the aircraft piled another $275 million loss on the company in the fourth quarter of 2020.
That pre-tax charge brought total losses last year from the tanker business to $1.32 billion – the largest sum in the programme's short history. The troubled aircraft's total lifetime losses are now about $5.1 billion, according to financial filings with the Securities and Exchange Commission.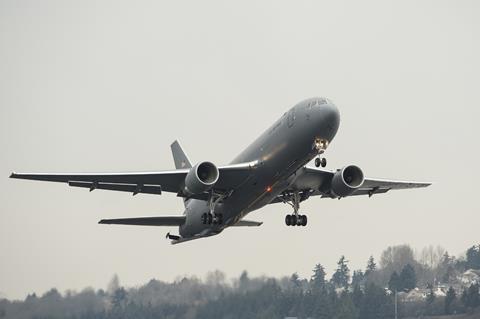 Problems in the fourth quarter with the KC-46A were "primarily due to production efficiencies, including the impacts of Covid-19 disruption", Greg Smith, Boeing's chief financial officer, said during the company's fourth quarter earnings call on 27 January.
Besides that mention, the tanker programme received little other comment from Boeing executives or Wall Street analysts on the earnings call. Attention was focused on the return to service of the 737 Max commercial airliner, which was grounded almost two years ago due to sloppily written software code that caused two fatal crashes.
The KC-46A has been a never-ending headache for Boeing. Derived from the 767 commercial airliner, the tanker has been plagued with design problems, shoddy manufacturing practices and most recently work interruptions due to the coronavirus pandemic. Because the programme is on a fixed-price contract Boeing must bear the costs of its mistakes.
One of the aircraft's most expensive problems is its remote vision system, a series of cameras that are meant to help an operator guide its refuelling boom into a recipient aircraft. Those cameras produce distorted or washed out images, however. That creates a risk that an operator could accidentally steer the boom into an aircraft expecting refuelling. In the first quarter of 2020, Boeing took an $827 million loss to cover the cost of redesigning the boom cameras.
KC-46A annual losses
Year
Amount
2014
$425 million
2015
$835 million
2016
$1,128 million
2017
$445 million
2018
$736 million
2019
$148 million
2020
$1,320 million

Total:

$5,037 million
Nonetheless, Boeing chief executive David Calhoun said on the company's third-quarter earnings call in October that he thought the programme was headed toward positive territory.
"The tanker has been a drag on us for like three or four years in every way you can think of with respect to investors. But we are beginning to clear the hurdle with our customer with respect to its performance in their fleet and then their need for that tanker," he said. "So that whole relationship, I believe, will begin to transition next year. And as opposed to being a drag on our franchise, as it's been, I believe it will become a strength in our franchise."
Boeing delivered 14 KC-46A tankers in 2020 to the USAF, half of the number it delivered the year before, after what is said were struggles with design and manufacturing problems, as well as production stoppages caused by the coronavirus pandemic.
The total USAF programme of record is 179 aircraft for a total expected value of about $30 billion, Boeing has said. The company is now on contract with the USAF, the tanker's main customer, for 94 examples of the KC-46A. Japan also ordered four aircraft. Orders from other foreign militaries remain elusive.