The US Air Force is again allowing Boeing KC-46A Pegasus in-flight refuelling tankers to carry passengers and cargo, lifting a ban after accepting Boeing's cargo-lock retrofit.
The USAF announced in September that during test flights multiple cargo-floor restraint locks malfunctioned and came unlocked. At the time, in-service KC-46As were transporting cargo. The service suspended cargo and passenger flights as a precaution.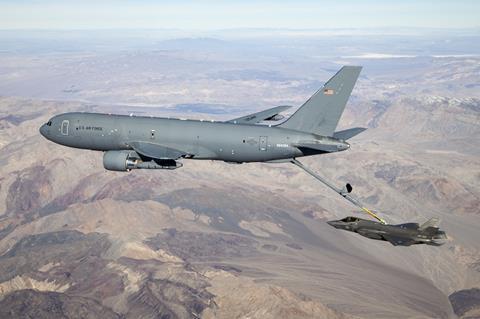 The issue was labeled a category one deficiency, a problem "which may cause death or severe injury; may cause loss or major damage to a weapon system; critically restricts the combat readiness capabilities of the using organisation; or results in a production line stoppage," said the service at the time.
The USAF removed the category one deficiency label from the KC-46A on 18 December, lifting its cargo and passenger ban for aircraft that receive new cargo-locking mechanisms, it says on 20 December. Boeing has said its cargo-lock retrofit would be a secondary locking mechanism, essentially a latch to hold the primary lock in place.
Carrying cargo and passengers is a secondary, though important mission for the KC-46A. The aircraft primarly serves as a flying gas station for the USAF's fleet, allowing aircraft to refuel without landing.
The first KC-46A to receive the new hardware is assigned to McConnell Air Force Base in Kansas. That aircraft has resumed missions carrying cargo and passengers, says the service.
"KC-46A integration represents an important step in recapitalising our aging tanker fleet," says Will Roper, assistant secretary of the USAF for acquisition, technology and logistics. "While the programme has not been without challenges, resolving this deficiency is a step in the right direction."
The USAF says it has accepted 27 KC-46A aircraft from Boeing. It expects the company to finish a complete fleet retrofit by March 2020.
The KC-46A has two remaining category one deficiencies, including problems with its boom camera, called the remote vision system, which sometimes displays a distorted image; and issues properly connecting its refuelling boom to lighter aircraft, such as the Fairchild Republic A-10 Thunderbolt.
The refuelling boom design problem was caused by faulty guidelines given to Boeing by the USAF. The manufacturer will be paid by the service to fix the issue.
The remote vision system is Boeing's mistake and will be resolved at its expense, with a critical review of design changes likely coming towards the end of 2020, the company has said.