Boeing has taken another multimillion dollar charge on the KC-46A Pegasus in-flight refueling tanker, but believes the programme is beginning to "clear the hurdle" in terms of how the US Air Force (USAF) views its manufacturing performance.
For the quarter ended 30 September, the Boeing Defense, Space & Security division's earnings fell because of a $67 million charge to the tanker programme caused by to coronavirus disruptions and undisclosed productivity inefficiencies, it says in an earnings call on 28 October. As a result, the division's profit fell 16.7% to $628 million for the third quarter, compared to the same period a year earlier. Revenue for the division fell 2.2% to $6.85 billion.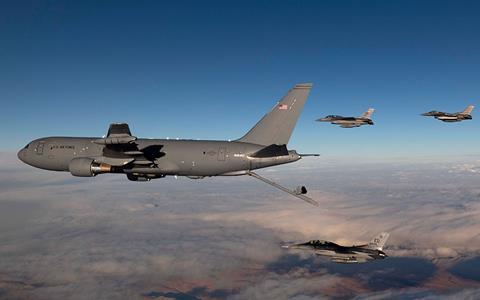 The KC-46A tanker programme has been plagued with problems for years. One of its most expensive problems is its remote vision system, a series of cameras that are meant to guide its refuelling boom into recipient aircraft. That camera produces distorted or washed out images creating a risk that an operator could accidentally steer the boom into an aircraft awaiting refuelling. In the first quarter of 2020, Boeing Defense took a $827 million loss to cover the cost of redesigning the boom cameras.
Boeing's tanker programme has also suffered from poor manufacturing quality. Shoddy design and manufacturing work by the company's employees has led to leaking fuel tanks, cargo locks that come undone and foreign object debris found inside the airframes of many aircraft.
Despite those problems and nearly $5 billion in losses, Boeing believes the KC-46A programme is turning a corner.
"The tanker has been a drag on us for like three or four years in every way you can think of with respect to investors. But we are beginning to clear the hurdle with our customer with respect to its performance in their fleet and then their need for that tanker," says David Calhoun, Boeing chief executive on the earnings call. "So that whole relationship, I believe, will begin to transition next year. And as opposed to being a drag on our franchise, as it's been, I believe it will become a strength in our franchise."


Garrett Reim is a military aviation reporter based in Los Angeles. He reports on military aircraft manufacturers and operators in North and South America. Send him your confidential tips, press releases and story ideas via garrett.reim@flightglobal.com. Follow him on Twitter via @garrettreim.