Boeing and the US Navy (USN) plan to co-develop a supersonic land and sea strike missile to be carried aboard the F/A-18 Super Hornet fighter.
The company has been awarded $30 million to develop the Supersonic Propulsion Enabled Advanced Ramjet (SPEAR) flight demonstrator with the USN's Air Warfare Center Weapons Division, it said on 20 October.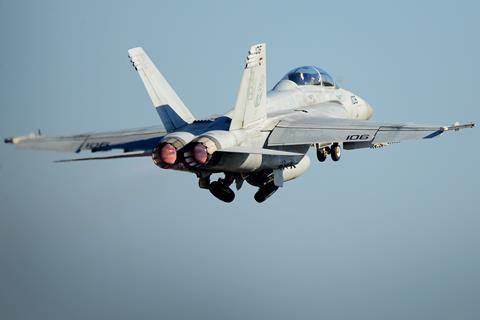 "The SPEAR flight demonstrator will provide the F/A-18 Super Hornet and carrier strike group with significant improvements in range and survivability against advanced threat defensive systems," says Steve Mercer, Boeing's SPEAR programme manager. The USN's carrier strike group also includes the Lockheed Martin F-35C stealth fighter, though in the announcement that aircraft was not explicitly mentioned as compatible with the new missile.
Boeing says it plans to test fly the SPEAR demonstrator in late 2022.
The size, payload and range of SPEAR have not been disclosed. It is not clear if the missile will solely be a pathfinder for emerging technologies or a forerunner to a future programme of record. "It will help determine the requirements of future carrier-based land and sea strike weapons systems," says Boeing.
Ramjets are a form of air-breathing jet engine that compress incoming air in a combustion chamber via forward motion. Often that initial forward motion is provided by a booster rocket. Ramjets tend to be more efficient than conventional turbojets at high supersonic speeds.