Boeing's VC-25B was snagged by coronavirus restrictions and a dispute with a supplier in the first quarter of 2021, causing the company to report a $318 million loss on the Presidential Aircraft Replacement programme.
The VC-25B is popularly known by its call sign "Air Force One" when the US president flies aboard. The latest variant of the executive transport is based on the 747-8 commercial airliner.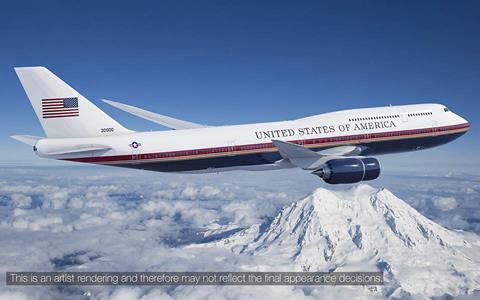 Production of the two VC-25B aircraft ordered by the US Air Force (USAF) was disrupted by the coronavirus "where employee clearance constraints impede our ability to exchange mechanics when quarantines are required", David Calhoun, chief executive officer of Boeing, said in a first quarter 2021 earnings call on 28 April.
"Performance issues at our supplier" were also a problem for the programme, adds Greg Smith, chief financial officer. Boeing did not mention that supplier by name, but the company appears to be GDC Technics of Fort Worth, Texas.
GDC Technics was sued by Boeing in April for allegedly failing to deliver on time-unspecified interior aircraft systems and components for the executive transports, according to a text of the lawsuit. GDC Technics, which filed for bankruptcy protection on 26 April, countersued Boeing this month alleging that the company had mismanaged the VC-25B work.
The USAF contracted Boeing to design and build two VC-25Bs on a fixed-price development contract, originally worth $3.9 billion. The fixed-price nature of the deal means that some cost overruns are taken by Boeing, rather than the US government. Boeing also recorded a $168 million charge to the programme in April 2020 due to coronavirus-related disruptions.
The USAF plans to replace its current fleet of presidential aircraft, two 747-200-based VC-25As delivered in 1991, with two 747-8s originally built for Russian airline Transaero, which filed for bankruptcy in 2015 before it could take delivery of the jumbo jets. Conversion work on the two airliners is taking place at Boeing's facilities in San Antonio, Texas.
The VC-25B must be able to operate as a secure command-and-control centre for the US president while in flight. It also has a luxury interior, complete with an office for the commander-in-chief and a separate bedroom, as well as a conference room and medical facility.
Other modifications to the 747-8 include integration of a military GPS into its flight management system and identification friend-or-foe capabilities, according to USAF documents filed in 2018. The existing auxiliary power unit, typically a Pratt & Whitney PW901A/C on the commercial airliner, is being replaced with two APUs from unnamed sources to allow the jet to have electrical power generation while on the ground.
Boeing will also install two additional doors on the left side of the aircraft, one forward of the wing and one behind the wing. Those doors will come with retractable airstairs to allow the aircraft to emplane passengers and crew without needing to rely on ground-based staircases.
The Presidential Aircraft Replacement programme reached critical design review in April 2020. The new presidential aircraft are scheduled to begin flying in December 2024.


Garrett Reim is a military aviation reporter based in Los Angeles. He reports on military aircraft manufacturers and operators in North and South America. Send him your confidential tips, press releases and story ideas via garrett.reim@flightglobal.com. Follow him on Twitter via @garrettreim.