The US Air Force (USAF) has awarded Boeing a multibillion-dollar contract to sustain the worldwide fleet of C-17 Globemaster III strategic transports over the next 10 years.
The contract runs through May 2031 and has a maximum value of $23.8 billion, if all options are exercised, the US Department of Defense said on 27 September. The US government granted Boeing an initial $3.46 billion contract to kick off the programme through 2024.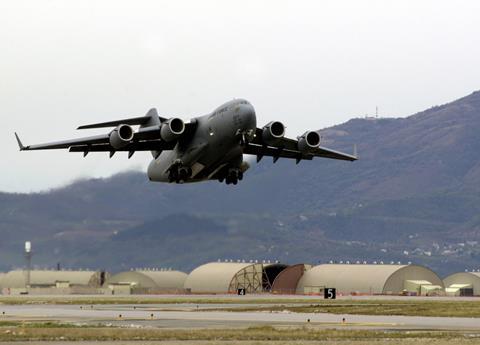 Boeing's C-17 is the core of the USAF's airlifting capability. With a 77,500kg (171,000lb) lifting capacity, the transport can carry paratroopers, patients on stretchers, vehicles and cargo pallets.
The aircraft was used heavily as part of the recent evacuations of Kabul, named Operation Allies Refuge, under which 124,000 people were airlifted out of Hamid Karzai International airport between 14-30 August. In one record-setting flight, a C-17 carried 823 people out of Afghanistan.
The aircraft features a high-lift wing mounted above the fuselage, as well as slats and externally blown flaps, which allow it to operate from rough airfields as short as 1,064m (3,500ft), and only 27.4m wide.
There are 273 examples of the Globemaster, with an average age of 16.5 years, in service globally, according to Cirium fleets data. In addition to maintaining the USAF's 220 C-17s, the recently awarded contract provides for sustainment of aircraft fielded by India, Kuwait, NATO, Qatar, the UK Royal Air Force, the Royal Australian Air Force, the Royal Canadian Air Force and the United Arab Emirates.
Boeing is to provide programme management, logistics, materiel and equipment management, engineering, quality assurance, depot-level aircraft maintenance and modifications, Pratt & Whitney F117-PW-100 turbofan engine management, long-term sustainment planning and field services. The company is also to provide undisclosed "unique foreign military customer services".
The USAF awarded Boeing the contract as a sole source, meaning without competition. Typically, sole-source contracts are granted when the US government believes there are not viable alternatives.
The contract is structured as a performance-based logistics agreement; a sustainment programme where a company is contracted to maintain a certain level of flight readiness. That differs from traditional maintenance contracts where the operator would pay for supply of parts or repair services.
The C-17 was developed by McDonnell Douglas and manufactured in Long Beach, California. Boeing acquired McDonnell Douglas in 1997 and continued to produce the airlifter until 2015.
Article updated on 29 September with additional information from Boeing