Boeing has landed a NATO contract to study capabilities that could be included in a future airborne command and control platform.
Issued by NATO's Support and Procurement Agency, the contract calls for Boeing and partners to produce a Risk Reduction and Feasibility study of future air surveillance, command and control concepts, Boeing said on 31 March.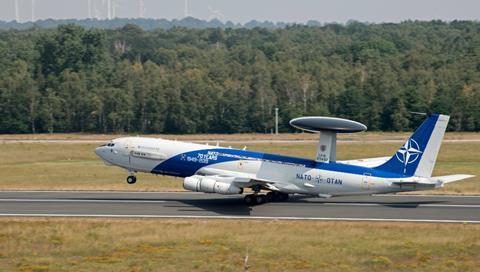 The study will guide capability development efforts for the 30-country military alliance in advance of the planned retirement in 2035 of NATO's Boeing E-3 Airborne Warning & Control System (AWACS) jets.
Boeing will lead a group of industry partners (known as the ABILITI team) in carrying out the study. That partnership was launched in 2019 and includes manufactures from France, Germany, Italy, Spain and the UK.
"The combined engineering and aerospace expertise of our team will ensure we deliver a technical concept that provides the most-effective means of addressing NATO's future surveillance, command and control needs," says Kim Stollar, Boeing managing director for EU and NATO government affairs.
The US Air Force (USAF) announced in February that it is seeking a replacement for its own fleet of E-3G Sentrys. USAF Secretary Frank Kendall said in December 2021 that the service is looking for a stopgap AWACS aircraft until it can ultimately field a space-based system.
Boeing's E-3 is based on a modified Boeing 707 airframe and has been in service since 1977. Those are used by the USA, France and Saudi Arabia, and an independently operational NATO unit. Japan operates AWACS based on 767 airframes.
NATO has 17 E-3A AWACS, which it operates from a base in Geilenkirchen, Germany. The alliance has operated E-3s since 1982.