Pilot training company CAE USA has won a contract to provide a cloud-based learning management system which is to help guide the US Air Force's (USAF's) "Undergraduate Pilot Training 2.5" initiative.
Prior to the coronavirus pandemic, the USAF struggled to recruit and train new pilots fast enough to replace experienced aviators who were often retiring to become airline pilots. The service wants to make its pilot training more efficient and individualised for students.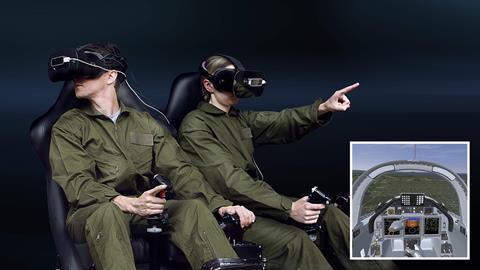 The USAF Air Education and Training Command is now looking to speed up and improve its processes by leaning on artificial intelligence (AI) and machine learning software to customise lessons for students. It is also looking to use virtual-reality headsets and less-expensive simulators to save costs and provide students more-realistic training.
"The [learning management system] will enable the air force and its students to access training content such as schedules, courseware and remote instruction more easily on demand," says CAE, a Canada-based company. "In addition, by implementing [a learning management system] that is optimised through artificial intelligence and machine learning, the air force expects to create a pilot-training process that is continually adapting and improving."
The USAF also plans to develop an artificially intelligent flight instructor that would provide active and passive instruction to help guide students through the pilot-training syllabus, adds CAE.
Winning the learning management system contract from the USAF puts CAE at the centre of the service's pilot-training coursework and could help the company position to upsell other educational services and training equipment. CAE says elements of its proprietary Trax Academy curriculum will be implemented as part of the initiative.
"Over the next year during the initial phase of the [Undergraduate Pilot Training 2.5] effort, CAE will collaborate with the air force and other industry partners to develop and test the [learning management system] and artificial-intelligence components," says CAE. "Installation, integration and testing will take place initially at both Joint Base San Antonio Randolph in Texas and Vance Air Force Base in Oklahoma."