China plans to sanction Boeing Defense, Raytheon and Lockheed Martin over a possible $1.8 billion Foreign Military Sales package for Taiwan.
The weapons package was approved by the US Department of State on 21 October and includes dozens of anti-ship missiles, long-range rocket artillery and long-range airborne reconnaissance pods for the island democracy.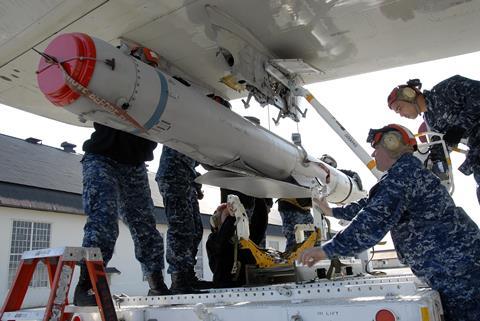 Beijing views Taiwan as a breakaway province. It does not accept its autonomy or independence. To weaken and isolate Taiwan, China has repeatedly vowed to strike back against countries or companies that supply it with military equipment.
"To uphold national interests, China decides to take necessary measures to sanction US companies involved in the arms sales to Taiwan, including Lockheed Martin, Boeing Defense, Space & Security and Raytheon, as well as the US individuals and entities who played an egregious role in the process," Chinese foreign ministry spokesperson Zhao Lijian said during a press conference on 26 October.
China also said in July it would sanction Lockheed for the sale of 66 F-16 fighters to Taiwan.
China has become increasingly aggressive toward Taiwan in recent years, buzzing the island's air defence identification zone with fighter jets and declaring publicly that it sees invasion as a reasonable means toward reunification. China and Taiwan have been governed independently for more than 70 years after splitting up in the wake of the Chinese Civil War.
For its part, the USA has an ambiguous relationship with Taiwan in order to not upset China. That means the USA does not formally recognise the nation, but has a de facto embassy in the country called the American Institute in Taiwan. The US Department of State says Washington and Taipei "enjoy a robust unofficial relationship".
The possible Foreign Military Sales that China is promising to retaliate against would include 135 examples of the Boeing AGM-84H Standoff Land Attack Missile Expanded Response (SLAM-ER), 11 Lockheed High Mobility Artillery Rocket Systems (HIMARS) launchers and six Collins Aerospace MS-110 multi-spectral airborne reconnaissance pods.
The US Defense Security Cooperation Agency says the package is intended to create a "credible defensive capability" for Taiwan. The reconnaissance pods could be used on an aircraft to warn the Taiwanese military of the gathering of an invasion force in mainland China; the HIMARS could be used to strike that invasion force before it disembarks across the Taiwan Strait; and, the SLAM-ER weapons could be used to hit Chinese navy ships as they carry troops toward the island.
It is not clear how painful Chinese sanctions will be for US aerospace manufacturers, though Lockheed appears likely to escape mostly unscathed. It sells few commercial products and the company says less than 1% of its total sales are generated in China.
Boeing and Raytheon could be more vulnerable, as they both have commercial aviation businesses in China.
For Boeing's part, the sanctions appear to be directed only toward its military unit, which does not do business in China. If Boeing Commercial Airplanes were targeted, the company would be more vulnerable, especially as it is already trying to recertificate its 737 Max airliner in China, notes an equity research report from Jefferies.
"We estimate that China could make up approximately 20% of the near-term skyline for 737 Max aircraft, with Chinese government officials having the power to delay the re-certification of the Max and not committing to a clear timetable," says the report, released on 26 October. "A potential delay could create risk to 89 deliveries scheduled for 2021."
There are some potential supply chain problems for Raytheon subsidiary Collins Aerospace.
"Given how broadly Collins products are dispersed across the aerospace market, it's harder to gauge what a targeted sanction package could look like on the company's products," says Jefferies. "We would expect that if any sanctions are extended to the commercial side, it would be largely focused on the [original equipment] side, with particular risk around the Max."
Collins Aerospace's business ventures with the state-owned Commercial Aircraft Corporation of China (Comac) seem likely to escape issues.
"The direct impact could come through Collins' exposure to Comac, providing avionics for the company's ARJ21 and C919. Given just 39 ARJ21s have been delivered with no C919s, we see any impact as relatively immaterial," says Jefferies. "Collins also makes direct sales of product offerings to Chinese airlines, with total direct exposure around an estimated $400 million. We view any potential sanctions directly on commercial aerospace as unlikely."
Boeing and Raytheon say they remain committed to doing commercial aviation business in China, while also noting their commitment to the US Foreign Military Sales process, which is controlled by the US government.