Lockheed Martin and Mitsubishi Heavy Industries plan to shut down production at the F-35's Final Assembly and Check-Out (FACO) facility in Nagoya, Japan the week of 9-13 March due to fears of coronavirus contagion.
The number of coronavirus cases in Japan climbed past 1,000 on 4 March, according to the World Health Organization and local media reports. The country has the fifth highest number of confirmed cases worldwide, behind China, South Korea, Italy and Iran.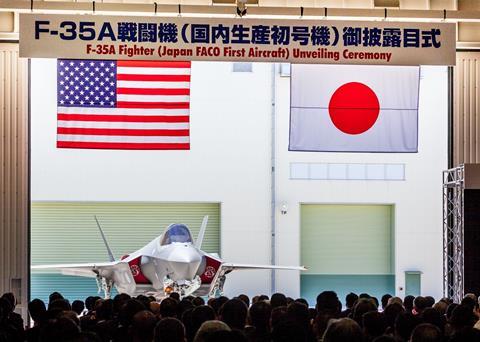 Italy has about 2,500 confirmed cases of coronavirus, but Lockheed Martin says production at its Cameri FACO facility is continuing, despite several news reports saying production had stopped. Cameri is in the Lombardy region of Italy, which has more than half of the country's confirmed cases of Covid-19.
The company has cautioned employees to avoid northern Italy, however.
"We advised employees to avoid travel to, through and from northern Italy in alignment with US State Department guidance," it says.
Several news reports also said that production in Nagoya, Japan had already halted, but Lockheed says it plans to operate until next week.
"A lot of people were reporting that it is currently closed," the company says. "That is not accurate."
Production at Lockheed Martin's Fort Worth, Texas assembly line has not stopped, the manufacturer says.
Lockheed Martin says it plans to continually assess the situation in Japan in consultation with Mitsubishi Heavy Industries, the Joint Program Office and local health officials.
The company does not currently expect the work stoppage to impact its plans to deliver 140 examples of the F-35 in 2020.