The US Defense Advanced Research Projects Agency's (DARPA's) Air Combat Evolution (ACE) programme tested team dogfighting between artificial intelligence-controlled fighters in a software simulation in February.
"Scrimmage 1", run by Johns Hopkins Applied Physics Laboratory, tested artificial intelligence algorithms in simulated two-versus-one engagements: two friendly "blue" Lockheed Martin F-16s fighting as a team against an enemy "red" aircraft, DARPA said on 18 March.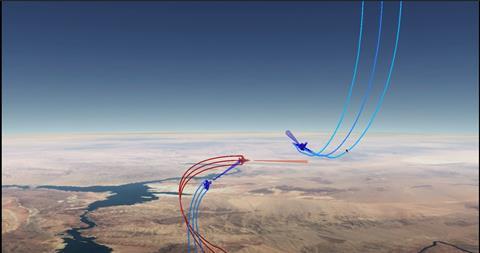 The simulations follow the AlphaDogfight Trials conducted last August, a virtual demonstration of one-versus-one dogfighting with a short-range gun. The new scrimmages included long-range virtual missile engagements.
"These new engagements represent an important step in building trust in the algorithms since they allow us to assess how the [artificially intelligent] agents handle clear avenue of fire restrictions set up to prevent fratricide," says Colonel Dan Javorsek, programme manager in DARPA's Strategic Technology Office. "This is exceedingly important when operating with offensive weapons in a dynamic and confusing environment that includes a manned fighter, and also affords the opportunity to increase the complexity and teaming associated with manoeuvring two aircraft in relation to an adversary."
Ultimately, DARPA envisions loyal wingman unmanned air vehicles (UAVs) handling dogfighting autonomously while a human pilot would focus on "higher-cognitive battle manager decisions". The agency is working to demonstrate that artificial intelligence-controlled UAVs can be trusted in battle.
"To begin capturing this trust data, test pilots have flown several flights in an [Aero Vodochody] L-29 jet trainer at the University of Iowa Technology Institute's Operator Performance Laboratory," says DARPA. "The two-seat jet is outfitted with sensors in the cockpit to measure pilot physiological responses, giving researchers clues as to whether the pilot is trusting the [artificial intelligence] or not."
For safety reasons, the L-29 is actually flown from the front cockpit seat by a "human servo actuator", a human pilot that is reading flight instructions generated by an artificially intelligent program and then executing those manoeuvres. "To the evaluator pilot in the backseat, it appears as if the [artificial intelligence program] is performing the aircraft manoeuvres," says DARPA.
"We've started looking at measurement techniques to see where the evaluation pilot's head is pointing, as well as where their eyes are looking around the cockpit," Javorsek says. "This enables us to see how much the pilot is checking on the autonomy by looking outside the window, and comparing that to how much time they spend on their battle management task."
DARPA plans to transition its dogfighting artificial intelligence algorithms from its simulations to subscale aircraft demonstration in late 2021.
The ACE programme will culminate in a full-scale, artificial intelligence-controlled L-39 jet flying in team dogfight trials in late 2023 and 2024. DARPA is developing aero performance models of the L-39 and contractor Calspan has begun modifying an initial aircraft.