The US Defense Logistics Agency is researching ways to set up a performance-based logistics contract for the US Air Force (USAF) Fairchild-Republic A-10 Thunderbolt II to reduce the time it takes to repair the ground-attack aircraft.
The market research is intended to inform the design of a possible five-year fixed-price maintenance contract, which would have a five-year extension option, the service said in a sources sought notice posted online on 22 October by the agency.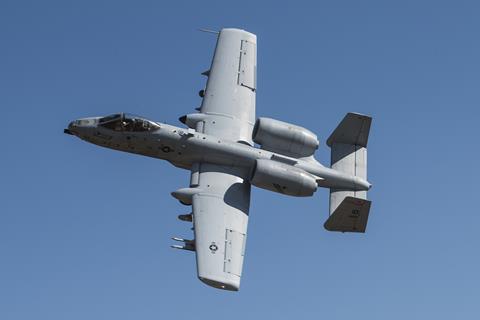 "The overarching objectives of this acquisition are to decrease A-10 airframe repair delays due to outstanding consumable requirements, and fill requisitions within material availability priorities, and accelerate the airframe repair turnaround time through enhanced material availability," says the notice.
The A-10 was originally developed and manufactured by Fairchild-Republic. The aircraft reached initial operating capability in 1977. The programme's assets were acquired by Northrop Grumman in 1987.
A performance-based logistics contract typically awards a flat fee to a contractor to maintain a certain level of performance on an aircraft, such as a mission capability rate or cost per flight hour. Traditional maintenance programmes rely on one-off contracts for parts or repair services. In theory, performance-based programmes give a maintaining company an incentive to make long-term investments in improving an aircraft's performance.
The USAF has said it wants to fly the A-10 beyond 2030. The service has spent more than $1.3 billion since 2011 to replace the wings on 200 examples of the aircraft. Each wing set is supposed to support 10,000h of flight before needing a depot inspection.
Despite the investment, the USAF has said recently that it may retire some A-10s early to save money for other budget priorities, such as buying new Lockheed Martin F-35 stealth fighters. Members of the US Congress have pushed back on retiring the A-10 as the ground-attack aircraft has a sort of cult following with the American public and soldiers.
The aircraft was designed for strafing an invading force of Soviet and Warsaw Block tanks pouring through the Fulda Gap, an easy-to-traverse lowland on the former border of East and West Germany.
It is well known for its titanium-armoured cockpit and its massive 30mm GAU-8/A seven-barrel Gatling gun. It can also carry up to 7,200kg (16,000lb) of mixed ordnance including rockets, missiles and precision-guided bombs.