Elbit Systems of America has won a $472 million fixed-price contract to provide pylon-based infrared missile warning systems for US Air National Guard and US Air Force Reserve Command F-16 fighters.
The infrared missile warning systems are to be installed on an undisclosed number of Lockheed Martin F-16s over the course of 10 years, with work to be finished by February 2030, Elbit says on 9 March. Installations will occur in Fort Worth, Texas.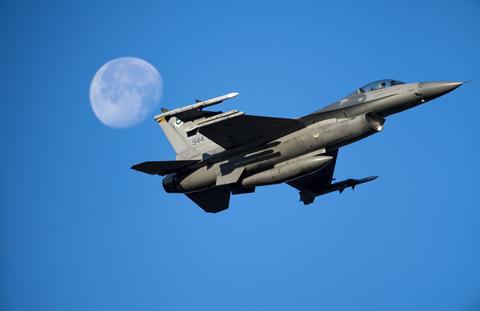 The $472 million amount represents the ceiling for the contract. Initially, Elbit is being awarded $17.1 million to start work.
Elbit Systems did not disclose the type of infrared missile warning system it would be installing on the F-16s. The company declines to comment.
Elbit Systems of America's parent company, Israel-based Elbit Systems, has said that its Passive Airborne Warning Systems (PAWS) is used on other F-16s, though it did not specify what country's aircraft use the system. The Israeli air force operates a large number of F-16s.
PAWS works by spotting the heat signature emitted from an incoming missile's rocket engine, automatically warning the pilot and activating countermeasures.
"Using sophisticated signal processing and algorithms, the systems detect and track incoming missiles, identify threatening ones, alert the aircrew with audio-visual warning signals, initiate timely flare dispensing and precisely cue directional [infrared] countermeasures towards an approaching missile," says the company's PAWS product card. "The PAWS systems operate either as a stand-alone, self-contained systems or as a part of a complete electronic warfare suite."
Typically, fighter aircraft avoid being hit by incoming missiles through several tactics, including evasive manoeuvres, as well as dispensing flares and using directional infrared countermeasures – a means of projecting infrared energy at a heat-seeking missile to confuse it.
The US Air Force Reserve and National Guard are undertaking several initiatives to upgrade their fleets of F-16s.
In 2018, the US Air Force awarded Rockwell Collins a contract to upgrade US Air National Guard and US Air Force Reserve F-16s with anti-jam GPS receivers. In January 2020, Northrop Grumman announced that a National Guard F-16 recently received the fleet's first active electronically scanned array radar.
Updated: The article was changed to include a sentence noting Elbit declines to comment (10 March 2020)