Brazil's air force previewed renderings of a proposed Embraer hybrid-electric short take-off military and commercial transport aircraft for the first time on 13 November in a video at a defence seminar.
Embraer and the Brazilian air force signed a memorandum of understanding in December 2019 to develop a new light military transport aircraft. Embraer acknowledges that the hybrid-electric renderings are the product of its memorandum of understanding, but declines to provide additional information beyond the video.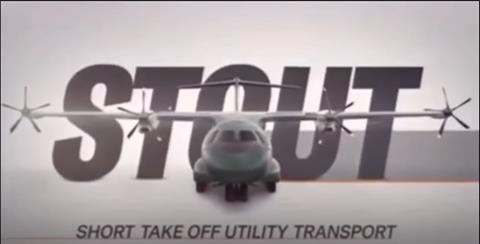 The Short Take Off Utility Transport (STOUT) is intended to replace the Brazilian air force's Embraer EMB-110 Bandeirante (designated C-95A) and EMB-120 Brasilia (designated C-97), according to recordings of the video presentation posted online by several Brazilian media outlets on 13 November. The STOUT would have two turboprop engines that also turn generators to provide power for electric-driven propellers on the aircraft's wingtips.
The continued pursuit of the STOUT project comes as Embraer's commercial airliner manufacturing division has been hard-hit by the coronavirus downturn, as well as Boeing's decision in April to walk away from a deal to acquire the company. Boeing also cancelled a planned joint venture agreement with Embraer to promote its C-390 Millennium medium-lift transport outside of Brazil.
Brazil has 64 examples of the twin-turboprop EMB-110 light transport in service, with an average age of 38.3 years, according to Cirium fleets data. The country's military has 19 examples of the EMB-120, a twin-turboprop commuter aircraft, with an average age of 26.5 years.
The STOUT is designed to have roughly the same height, width and length as the EMB-110 and EMB-120, according to the Brazilian air force video presentation.
The aircraft is intended for "serving remote locations with short, narrow and unpaved runways", says Brazilian aviation publication Poder Aero. It must be capable of "transporting cargo and personnel in jungle areas, reaching major airports in South America, launching parachutists, extracting pallets and transportation of the sick".
The transport must also be able to take off from a 1,200m (3,940ft) runway and operate in an "Amazonian environment".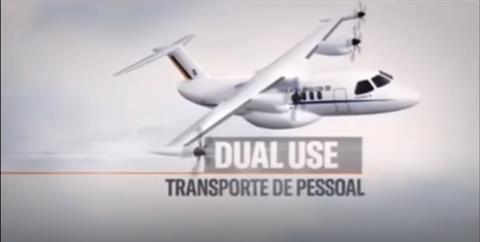 The hybrid-electric transport is to have a 1,310nm (2,420km) range and maximum payload of 3 tonnes. It would come with a rear cargo ramp for loading and unloading cargo and passengers, says the promotional video. The EMB-110 and EMB-120 lack a rear cargo ramp. The STOUT aircraft would be capable of carrying 24 paratroopers or 30 soldiers.
Embraer and the Brazilian government intend to use the country's need for a new military transport to jumpstart hybrid-electric aircraft development, a new form of aircraft that many believe is promising for regional or commuter commercial passenger service due to possibly lower fuel and maintenance costs, as well as a lighter environmental impact. The company brands the aircraft as "dual-use".