Embraer has started assembly of the Hungarian military's first KC-390 Millennium transport.
The aircraft recently passed its critical design review and a ceremony was held at Embraer's Gaviao Peixoto facility in Brazil to mark the start of production, the company said on 11 November.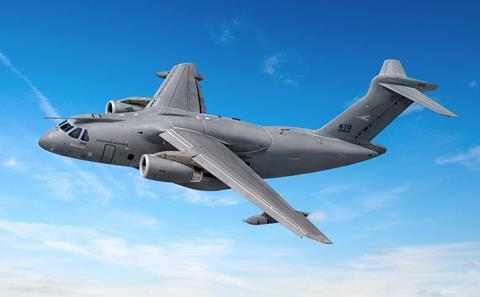 "In the coming weeks, parts will be assembled to generate the structural panels and frames for the main components of the fuselage and semi-wings," says Embraer.
Hungary ordered two examples of the KC-390 in 2020. The first aircraft is scheduled to be delivered in 2024.
Hungary's aircraft will be manufactured in the air-to-air refuelling configuration, hence the "KC" designation for the transports.
"The KC-390 probe and drogue refuelling system means the aircraft is capable of refuelling the Hungarian [Saab] JAS 39 Gripen, as well as other aircraft that use the same technology," says Embraer.
The basic cargo variant of the Millennium is designated C-390.
The Hungarian defence forces will also be the first operator in the world to receive the aircraft with the intensive care unit configuration, which it intends to use for humanitarian missions. The country also intends to use the aircraft for medical evacuation, cargo and troop transport, precision cargo airdrop and paratrooper operations.
The Brazilian air force was the launch customer for the KC-390 and has four of the type in operation. The service originally intended to order 28 examples of the transport. However, due to the negative economic impact of the coronavirus pandemic on Brasilia's budget the air force said in May that would cut its order by an undisclosed amount.
In addition to Brazil and Hungary, Embraer has received an order for five aircraft from the Portuguese air force. The company is also trying to convert 33 letters of intent into firm orders for the air forces of Argentina, Chile, Colombia and the Czech Republic, plus aviation services firm SkyTech, according to Cirium fleets data.