The Brazilian air force has informed Embraer it will cut its KC-390 Millennium transport order from 28 to 15 aircraft.

The air force and Embraer have been negotiating since April on a reduced order, but had been unable to come to an agreement, the service said on 12 November. Brasilia wants to buy fewer transports because its finances were hit badly by the economic fallout from the coronavirus pandemic.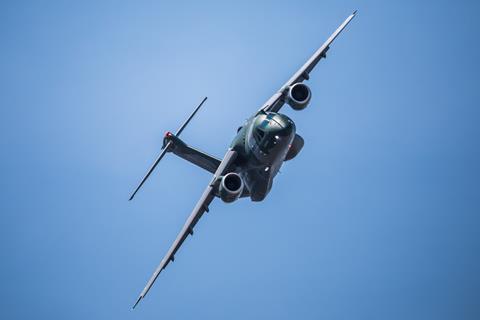 The service deemed it necessary to reduce its commitment despite Embraer rejecting a proposal for a new contract, says Lieutenant Brigadier Carlos de Almeida Baptista Junior, commander of the Brazilian air force.
"Considering Embraer's decision and the impossibility of continuing to carry out the contract in the current quantities, the Brazilian air force, in order to safeguard the public interest, will initiate, within the limits established by law, the procedures for the unilateral reduction of contracts for production of the KC-390 aircraft, an unprecedented and undesirable fact in this important and fifty-year relationship," he says.
The Brazilian air force and Embraer are closely linked. Embraer was founded by the Brazilian government in 1969 and remains partially state owned. The Brazilian air force was the company's launch customer for the KC-390.
On 12 November, Embraer issued a notice to shareholders saying it was aware the Brazilian government planned to "unilaterally reduce by 25% the total value of contracts" for the KC-390.
"As soon as it is formally notified by the federal government, the company will seek legal measures relating to the economic and financial rebalancing of the contracts, as well as evaluating the effects of the reduction of the contracts on its business and results," says Antonio Carlos Garcia, executive vice-president and chief financial officer of Embraer.
Embraer and the Brazilian air force say they remain committed to the KC-390. Four examples of the type have been delivered to the service.

In addition to Brazil, Embraer has received an order for five aircraft from the Portuguese air force, and for two from the Hungarian air force. The company has also received letters of purchase intent covering 33 aircraft from potential buyers including aviation services firm SkyTech and the air forces of Argentina, Chile, Colombia and the Czech Republic, according to Cirium fleets data.