Lockheed Martin has made several improvements to the F-35's Autonomic Logistics Information System (ALIS), but the technology remains plagued by about 4,700 deficiencies.
A new Government Accountability Office (GAO) review of ALIS, the F-35's ground-based software support system, outlines the scope of problems still affecting the technology, which has long been plagued by issues.
The report says 66% of outstanding deficiencies came to light in the last two years, and 22% are "Category 1" or "Category 2" problems.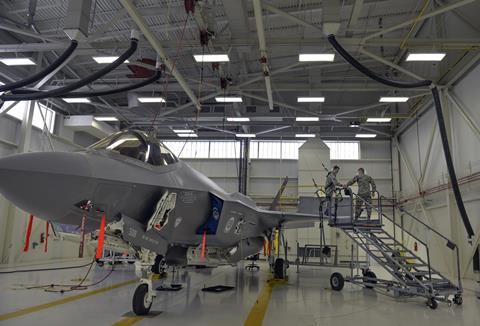 "Category 1 deficiencies are considered critical and could jeopardise safety, security or another requirement," says the GAO's report. "Category 2 deficiencies are those that could impede or constrain successful mission accomplishment."
The report does break out numbers of Category 1 versus Category 2 deficiencies.
ALIS, made by Lockheed Martin, is a ground-based computer that supports F-35 operations. Its software manages prognostics, maintenance, supply chain, flight operations and training.
For instance, ALIS' prognostic system tracks time before parts must be replaced; the maintenance system schedules and tracks aircraft maintenance; the supply chain system manages parts inventory; the operations system plans and debriefs missions; and the training system tracks pilot and maintainer training records.
ALIS' 4,700 open deficiencies are atop 873 deficiencies with the F-35, problems which were recently outlined in the US Department of Defense's (DoD's) Office of the Director of Operational Test & Evaluation. The report was released to the US Congress on 30 January.
In the same way that a large number of ALIS deficiencies were found recently, personnel responsible for fixing the F-35 aircraft are also regularly discovering new problems. "Although the programme is working to fix deficiencies, new discoveries are still being made, resulting in only a minor decrease in the overall number of deficiencies," says that report.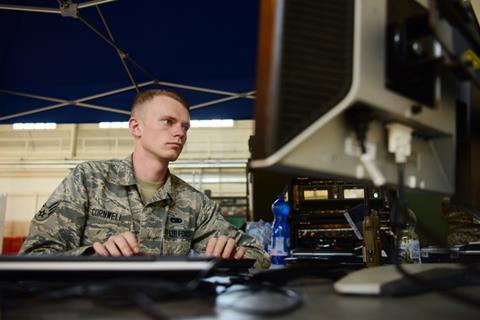 Despite a myriad of problems, some small improvements are being made to ALIS, according to a GAO survey of five sites which host the system.
"According to pilots, maintainers, supply personnel and contractors at five US F-35 locations, ALIS is generally performing better than it was 5 years ago," says GAO. "Specifically, users at all five locations stated that data processing, downloading of information and screen navigation were generally faster than previous years."
That progress continues to be outweighed by a large amount of problems with ALIS.
"While users at all five F-35 locations we visited said that ALIS is performing better than it was 5 years ago, they also stated that the system still posed significant challenges to day-to-day F-35 operations," says GAO.
The government agency's survey of facilities found seven major groups of problems remain: inaccurate or missing data, challenges deploying the system, a need for more personell than anticipated, an inefficient issue resolution process, poor user experience, immature applications and ineffective training.
ALIS issues reported by users at five F-35 locations, according to the GOA
User issue
Types of issues reported
Inaccurate or missing data
Inaccurate and/or missing data in ALIS has, at times, resulted in the system signaling that an F-35 aircraft should not be flown even though the aircraft has no issues that require it to be grounded and is ready for flight. Military service leadership then decide whether or not to assume risk and fly an F-35 that ALIS tells them to ground.
Challenges deploying
Taking ALIS on a deployment can be challenging because the required hardware is bulky to transport, internet connectivity is frequently limited and contractor support is needed.
Increasing personnel needs
F-35 squadrons are finding that they need more personnel than originally planned to support ALIS operations
Inefficient issue resolution process
Solutions to overall F-35-related issues, including ALIS-related hardware and software issues, are not shared in ALIS across the fleet, resulting in a reliance on contractor support to address problems that may have already been resolved.
Poor user experience
ALIS is not very user-friendly or intuitive, can be difficult to navigate, and standard functions can take more time than users expect to complete.
Immature applications
The Training Management System application within ALIS does not fit the needs of and remains unused by most users, while the Offboard Mission Support application remains difficult to navigate without the help of contractors.
Ineffective training
Current training for ALIS generally does not prepare users to operate ALIS, and most knowledge about the system is obtained through on-the-job-training.
In the long run, Lockheed Martin and the F-35 Joint Program Office (JPO) plan to scrap ALIS and replace it with the Operational Data Integrated Network (ODIN), a cloud-based system which they claim will not have the same problems and will be ready by December 2022.
For its part, Lockheed Martin emphasises recent improvements and declines to comment on when ALIS issues will be fixed.
"Lockheed Martin is working closely with the F-35 JPO on ALIS enhancements and we remain committed to improving speed, reducing labor and enhancing the user experience as we transition to the government-led Operational Data and Integrated Network," says the company.
Ultimately, the GAO is concerned the Pentagon and Lockheed Martin do not have a sufficient plan for fixing ALIS in the short term.
"The Department of Defense has not developed a performance measurement process for ALIS, which GAO recommended in 2014, or determined how ALIS issues affect F-35 fleet readiness," says the agency. "Without efforts in these areas, DoD will be hindered in addressing ALIS challenges and improving aircraft readiness."