Two Lockheed Martin F-35A stealth fighters recently dropped inert B61-12 nuclear gravity bombs over Tonopah Test Range in Nevada as part of the aircraft type's first full weapon system demonstration.
The demonstration is the final flight test exercise of the nuclear design certification process and brings the aircraft one step closer to nuclear operational certification, Air Combat Command said on 4 October. The F-35As took off from Nellis AFB in Nevada.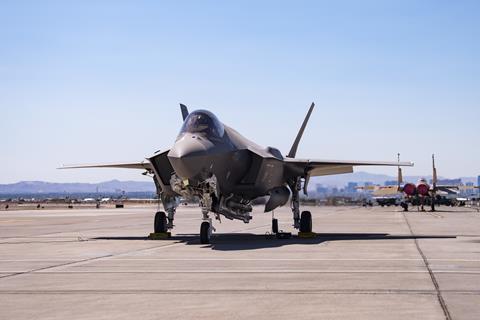 The B61 is the USA's main thermonuclear gravity bomb.
The nuclear certification process is divided into two phases: nuclear design certification and nuclear operational certification. The recent inert bomb drop test is the graduation flight test exercise for the F-35A nuclear design certification. It also is the last part of on-aircraft testing for the initial nuclear operations certification, says the US Air Force (USAF).
The USAF says the aircraft released the mock bombs in "operationally realistic flight envelopes". The service used B61-12 Joint Test Assemblies, which are the "most representative" B61-12 test asset.
"The B61-series weapons are tactical gravity nuclear weapons that can be used on dual-capable aircraft like the [Boeing] F-15E and [Lockheed] F-16C/D," says Lieutenant Colonel Daniel Jackson, chief of Air Combat Command's Strategic Deterrence and Nuclear Integration division. "Having a fifth-generation [dual-capable] fighter aircraft with this capability brings an entirely new strategic-level capability that strengthens our nation's nuclear deterrence mission."
Only F-35A units given a nuclear mission will be allocated the weapons, hardware and personnel needed to carry out nuclear attacks. Still, giving the USAF another way to launch a nuclear attack makes the F-35A a more formidable weapon, says Jackson.
"The [Northrop Grumman] B-2 bomber was the prominent nuclear-capable stealth aircraft," he says. "Adding nuclear capable to a fifth-gen fighter that already brings several conventional-level capabilities to the table adds strategic-level implication to this jet."
In addition to the F-15E, F-16C/D and B-2, the Boeing B-52 Stratofortress strategic bomber is also certified to launch a nuclear attack.