All of the US Navy's (USN's) active duty patrol squadrons have transitioned from the Lockheed P-3C Orion to the Boeing P-8A Poseidon maritime patrol aircraft.
Patrol Squadron 40 (VP-40), the Fighting Marlins, completed the final transition on 14 May, the service announced on 28 May. The squadron started the transition in November 2019.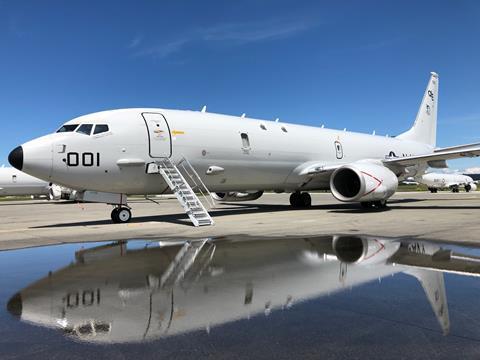 The squadron, based at NAS Whidbey Island in Washington state, first began P-3C operations in 1968.
The first P-8A was delivered to the USN in 2012. The aircraft, which is based on the commercial 737-800 airframe with -900 wings, is much larger and quieter than the four-engined P-3C. That aircraft was developed from the 1950s-era Lockheed L-188 Electra commercial airliner.
The P-8A can carry 126 sonobuoys internally and four Boeing AGM-84 Harpoon anti-ship missiles on hardpoints beneath its wings, as well as Mk 54 lightweight hybrid torpedoes and survival kits within an internal bomb bay. It can also fly higher and faster than its turboprop predecessor: up to 41,000ft and with a maximum speed of 490kt (908km/h).
The aircraft is mostly used for maritime patrol and reconnaissance missions, such as anti-submarine and anti-surface warfare, as well as intelligence, surveillance and reconnaissance, and search and rescue roles.
The P-8A is also operated by the Royal Australian Air Force and Indian navy, and is in the process of being introduced to service by the UK Royal Air Force. Aircraft are also on order for the Royal New Zealand Air Force, Royal Norwegian Air Force and South Korea's navy.
Correction: The P-8A was first delivered to the US Navy in 2012, not in 2011 as previously written.