Boeing has delivered the first F/A-18E Super Hornet test aircraft to the US Navy's (USN's) Blue Angels display team.
The aircraft is to enter flight test and evaluation at NAS Patuxent River in Maryland, Boeing announced on 3 June. The company plans to deliver a total of 11 aircraft to the flight demonstration squadron in 2020.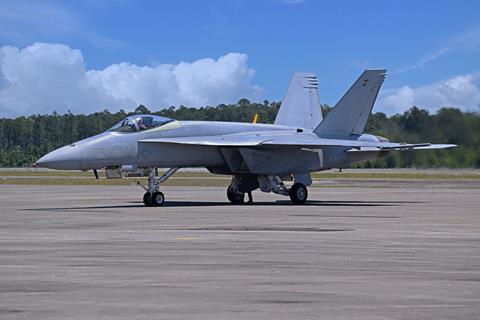 The initial aircraft has yet to be painted.
"The validation and verification aircraft will not be painted in the familiar blue and yellow paint scheme until flight testing is complete," says Boeing.
The Blue Angels currently fly legacy F/A-18 Hornets, which have been in use since 1986. The service's last operational F/A-18C made its final active-duty flight in October 2019. However, the US Marine Corps plans to fly the Classic Hornet until 2030, after which the Lockheed Martin F-35 will replace the aircraft.
The incoming Super Hornet has 40% greater range, will be 25% larger and can carry more weapons than the classic Hornet.
Final assembly of the baseline fighter is performed in St. Louis, Missouri. Boeing converts Super Hornets into Blue Angels aircraft at its Cecil Field facility in Jacksonville, Florida.
"Major modifications include the addition of an oil tank for the smoke-generation system, fuel systems that enable the aircraft to fly inverted for extended periods of time, civilian-compatible navigation equipment, cameras, and adjustments for the aircraft's centre of gravity," says the company.
Blue Angels aircraft are designed to be similar to the full-time operational variant, and can be returned to combat duty aboard an aircraft carrier within 72h, says the USN.


Garrett Reim is a military aviation reporter based in Los Angeles. He reports on military aircraft manufacturers and operators in North and South America. Send him your confidential tips, press releases and story ideas via garrett.reim@flightglobal.com. Follow him on Twitter via @garrettreim.