The US Air Force's (USAF's) first Lockheed Martin F-35A stealth fighters to be permanently stationed in Europe are expected to arrive at Royal Air Force (RAF) Lakenheath in the UK this December.
The service plans to permanently station two squadrons – 48 aircraft – at the Suffolk base, alongside existing Boeing F-15 fighters. USAF F-35s have visited Lakenheath before, but have not called the base home.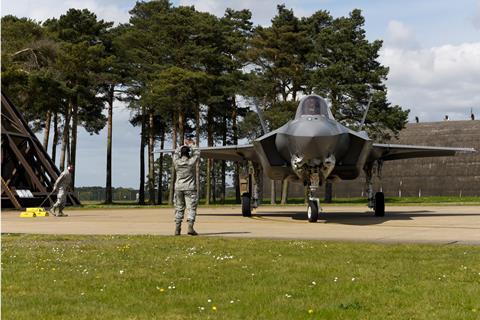 The base has undergone a number of upgrades ahead of the arrival of the stealth fighters, including the addition of a flight simulator facility, a new maintenance unit, as well as new hangars and storage facilities. In 2015, the UK Ministry of Defence invested £160 million ($218 million) for the upgrades.
The USAF plans to quickly start flying its F-35As alongside allies and partners in Europe that already operate the type, General Jeffrey Harrigian, commander of US Air Forces in Europe said on 21 September at the Air Force Association's Air, Space and Cyber conference in National Harbor, Maryland.
"We've already got some pretty good plans as we start thinking about how we leverage that capability, particularly with many of our partners that already have the F-35 in the theater," he says. "I really think it'll be a truly important step as we continue to demonstrate the importance that the F-35 has baked into it from an interoperability perspective."
F-35s carry a Multifunction Advanced Data Link system that allows the stealth fighters to communicate securely among themselves. The radio allows the aircraft to share and then fuze battlefield information gathered by sensors, such as radars and infrared cameras, into a single operating picture.
The F-35 has been purchased by Belgium, Denmark, Finland, Italy, the Netherlands, Norway, Poland, Switzerland and the UK. In June, USAF General Tod Wolters, NATO's supreme allied commander for Europe, projected that by 2030 there could be more than 450 examples of the F-35 in Europe.