Frank Kendall was sworn in as the 26th secretary of the US Air Force (USAF) on 28 July at the Pentagon.
A former USAF undersecretary of defense for acquisition, technology and logistics from 2012 to 2017, under President Barack Obama's administration, Kendall was confirmed by the US Senate on 26 July.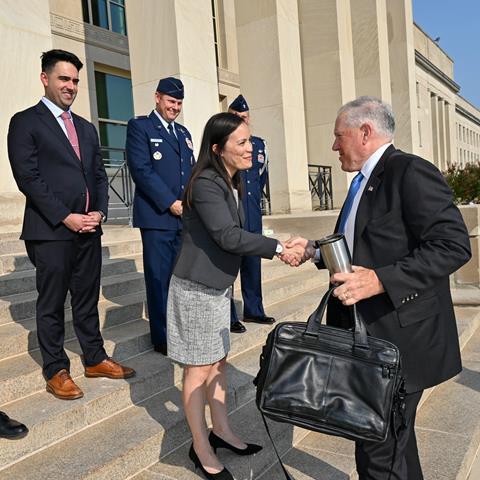 With the USA's coming exit from Afghanistan and its plan to end combat operations in Iraq by the end of the year, he will be tasked with reorienting the service away from counter-insurgency and counter-terrorism missions toward countering threats from China and Russia.
As part of that challenge, Kendall will need to bring down the operating cost and improve the reliability of the USAF's preeminent combat aircraft, the Lockheed Martin F-35A stealth fighter. Bringing the Northrop Grumman B-21 Raider stealth bomber through development, testing and into production will also be a top priority, as will continuing to build up the US Space Force.
"With regard to mission performance, I believe the range and severity of the threats that we face and will face, the rapid pace of technological innovation, and the need to rapidly harness that technology in new operational concepts demand a sense of urgency and a like focus on getting our choices right," he said during his confirmation hearings in May.
Kendall served 10 years on active duty with the US Army after graduating the US Military Academy at West Point. He also has a master's degree in aerospace engineering from The California Institute of Technology, a law degree from Georgetown University Law Center, and an MBA from C.W. Post Campus of Long Island University. Kendall was Raytheon's vice-president of engineering during the mid-1990s.
In addition to solving issues with the F-35 and bringing the B-21 toward production, Kendall will be tasked with pushing forward next-generation aerospace technologies, such as the nascent Joint All-Domain Command and Control battlefield network, the Next-Generation Air Dominance sixth-generation fighter, a host of new combat unmanned air vehicles and new space capabilities, including novel satellite constellations and spaceships.