The US Air Force (USAF) says fuel is leaking from its Boeing KC-46A Pegasus in-flight refuelling tanker.
The problem, which was first discovered in July 2019, was recently upgraded to a category 1 deficiency, says the service on 30 March.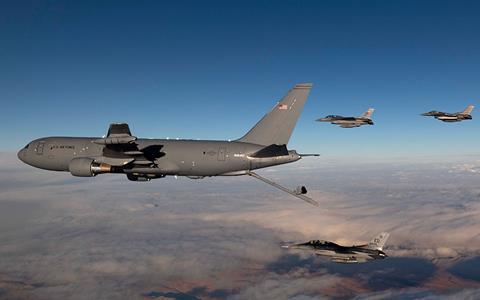 "The Air Force and Boeing are working together to determine the root cause and implement corrective actions. The KC-46 programme office continues to monitor the entire KC-46 fleet and is enhancing acceptance testing of the fuel system to identify potential leaks at the factory where they can be repaired prior to delivery," says the USAF. "Boeing is contractually obligated to remedy this deficiency at no additional cost to the government."
Boeing's production of KC-46A aircraft in Washington state's Puget Sound region is paused until 8 April because of the coronavirus pandemic. It is not clear how that would impact potential fixes.
At least "several" KC-46A aircraft require repair, says Boeing.
"The KC-46 fuel system is equipped with redundant protection for fuel containment," the company says. "In some cases with this issue, aircraft maintenance crews are finding fuel between the primary and secondary fuel protection barriers within the system."
The company did not immediately respond to a request for more information about how repairs would be done while the production line is shut down.
The USAF did not immediately respond to a request for additional information.
The KC-46A has been plagued with problems including several category 1 deficiencies. Category 1 deficiencies are defined by the USAF as issues "which may cause death or severe injury; may cause loss or major damage to a weapon system; critically restricts the combat readiness capabilities of the using organisation; or results in a production line stoppage".
The tanker has two other open category 1 deficiencies. Firstly, its boom camera, called the remote vision system, sometimes displays a distorted image. Secondly, its refuelling boom has problems correctly connecting to lighter aircraft, such as the Fairchild Republic A-10 Thunderbolt.
The boom camera problem is Boeing's fault and is being fixed at its expense. It is to delay the aircraft's entry into service until at least 2023, the USAF has said.
The boom connection problem stems from unclear USAF design guidance and is being fixed via a government-funded solution.
In December 2019, Boeing resolved another category 1 deficiency where multiple cargo-floor restraint locks malfunctioned and came unlocked. That was first discovered a few months prior in September 2019 and resulted in a temporary ban on cargo or passengers flying in the KC-46A. A hardware retrofit fixed the problem.
Delays to the KC-46A's entry into service, combined with a growing need for tankers, has forced the USAF to go looking for alternatives. The service is actively soliciting private companies to provide it with up to 5,000h of annual in-flight refuelling services starting in 2022.