Germany has signed a letter of offer and acceptance for five Boeing P-8A Poseidon maritime patrol aircraft.
The deal is worth about €1.1 billion ($1.3 billion) and will be carried out via the US government's Foreign Military Sales (FMS) process, the German defence ministry said on 30 June.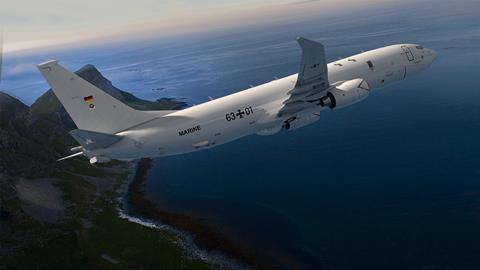 The Bundeswehr calls the purchase of the US-made maritime patrol aircraft an "interim solution" for a "capability gap that could not be tolerated".
The P-8A, which is based on the commercial 737NG, will replace eight turboprop Lockheed P-3C Orion maritime patrol aircraft that have an average age of more than 38 years, according to Cirium fleets data. Berlin was working to modernise its P-3C fleet, but ended the effort prematurely in 2020 after delays.
"For this reason, the Bundeswehr carried out a market survey that included all platforms available on the market," says the defence ministry. "After withdrawing from the P-3C Orion project, the [P-8A] aircraft serves to maintain the ability to carry out fast, long-range, airborne submarine hunting and long-range reconnaissance for the period from 2025 to 2035."
Boeing says it anticipates delivering the first jet in the fourth quarter of 2024.
The German-French Maritime Airborne Warfare System (MAWS) project – an effort to develop and produce a European-made maritime patrol aircraft, likely based on the Airbus A320neo airliner – was considered as part of the market survey. That joint project, launched last October, has yet to develop or produce a product, but Germany indicates it would be interested in buying from the programme after 2035.
In a March FMS approval, the US Defense Security Cooperation Agency said that Germany planned to operate the P-8A for 30 years. The addition of an aircraft developed under MAWS after 2035 may indicate that the country plans to operate a larger fleet of maritime patrol aircraft than it has in recent times.
In the near-term, the P-8A would likely be used by Germany in tracking Russian surface ships and submarines in the North Sea, Baltic Sea, North Atlantic and Arctic Ocean as part of NATO operations and joint missions with nearby Sweden and Finland. Russia has important naval bases on the Baltic Sea, including installations in its Kaliningrad enclave and in St Petersburg.
The Germany defence ministry says the P-8A would give its navy the "imperative, uninterrupted ability to carry out long-range sea reconnaissance and large-scale, airborne submarine hunting".
In addition to the five examples of the P-8A, Germany will buy associated mission and communication equipment, an initial spare parts package, ground testing equipment and a mission support system, as well as technical and logistical support. Germany had also requested tactical open mission software, L3Harris Wescam MX-20HD electro-optical/infrared (EO/IR) sensors, Raytheon APY-10 maritime, littoral and overland surveillance radars, Deagel ALQ-240 electronic support measures and BAE Systems ALE-47 countermeasures dispensing systems.
P-8As are land-based jets designed for intelligence, surveillance and reconnaissance, as well as attack missions against submarines and surface ships. The aircraft typically carry a variety of sensors, including synthetic aperture radar and EO/IR cameras. P-8As have a 1,200nm (2,200km) flight radius including 4h on station, and an in-flight refuelling capability.
The maritime patrol aircraft has a bomb bay and weapons pylons under its wings to carry Boeing AGM-84 Harpoon anti-ship missiles and Mark 54 lightweight torpedoes. It has capacity to carry 129 A-size sonobuoys.
Although the 737-based P-8A is built in Seattle, Boeing points to German suppliers for the aircraft including Aluminum-Bau Jonischeit and Nord-Micro. And, the company recently signed agreements with ESG Elektroniksystem-und Logistik and Lufthansa Technik to help with systems integration, training, support and sustainment work on the P-8A.
Existing Boeing P-8A customers include the Indian navy, Royal Australian Air Force, Royal New Zealand Air Force, Royal Norwegian Air Force, South Korean navy, UK Royal Air Force and US Navy. There are 139 P-8s in service, with 45 examples on order, according to Cirium data.