The cost to buy new aircraft to maintain the US Navy's (USN) current fleet size is projected to be about $380 billion over the next 30 years.
The replacement of fighter and attack aircraft, such as the Lockheed Martin F-35 Lightning II and the Boeing F/A-18 Super Hornet would represent the largest overall costs between 2020 and 2050, totaling about $190 billion, according to a projection by the Congressional Budget Office (CBO), released on 6 January.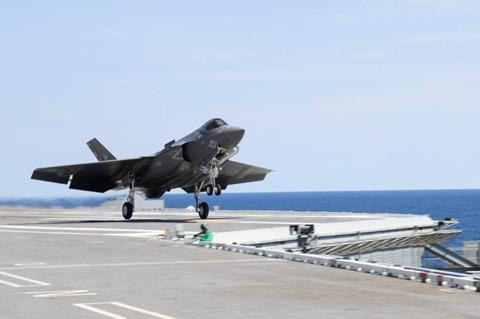 The USN and US Marine Corps (USMC) operate a fleet of more than 4,000 aircraft, consisting of 60 different models, says the CBO.
However, over the next 30 years a small number of high-performance aircraft would make up a majority of future replacement costs.
"The two most costly categories are fighter and attack aircraft and the Marine Corps' combat rotorcraft, [such as] helicopters and tiltrotors, which together make up more than 80% of the costs that CBO projects for 2020 through 2050," says the CBO. "Just the top five most expensive systems, which are in the same categories, account for more than 60% of total projected aircraft procurement costs."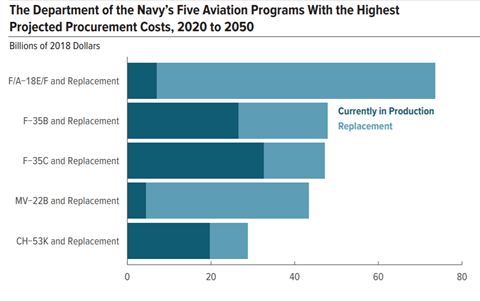 Much of those costs are because the USMC and USN are currently buying large numbers of F-35B and F-35C aircraft, which are to replace more than half of the services' fighter and attack aircraft fleets, made of the aging McDonnell Douglas F/A-18A-D Hornet and McDonnell Douglas AV-8B Harrier II, says the CBO.
Eventually, the USN will have to turn its attention, and its dollars, to developing and buying its next generation of fighter and attack aircraft, the FA-XX. That aircraft is to replace the service's about 500 F/A-18E/F Super Hornets, which are to start reaching the end of service life in the mid-2030s.
The CBO anticipates the service would start production in 2032 of the FA-XX. The agency projects that the FA-XX would cost $67 billion for the first 448 aircraft. That comes to a flyaway cost of about $150 million per aircraft.