The Israeli ministry of defence has signed a letter of acceptance (LOA) for two Boeing KC-46 in-flight refuelling tankers.
The country is to be the second international customer of the tanker after Japan, which has ordered four KC-46s. The LOA was signed over the 20-21 February weekend, the ministry of defence said on 22 February.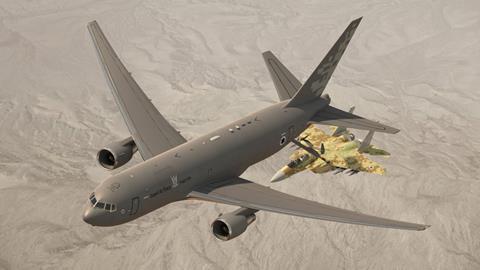 Israel was approved by the US Department of State to buy up to eight KC-46 aircraft and related equipment for an estimated cost of $2.4 billion in March 2020.
"In the next phase, two more refuellers will be purchased, from a future fleet of eight aircraft," says the ministry of defence. "All refuellers will be adapted to the Israeli configuration and to the operational requirements of the air force. In addition, Israeli systems will be integrated into the aircraft. Delivery of the first aircraft is expected in the middle of the next decade."
The Israeli air force currently operates seven Boeing KC-707 tankers, according to Cirium fleets data.
The LOA from Israel is welcome news for Boeing's KC-46 programme, which has struggled to gain international customers, and suffered delays and cost overruns due to manufacturing and design problems. The US Air Force is the KC-46's main customer, with 94 aircraft on contract from a planned total of 179.
The Israeli air force also plans to buy additional US-made combat aircraft.
"Similar processes will be launched to acquire a third [Lockheed Martin] F-35 squadron, heavy lift helicopters to replace the [Sikorsky] CH-53 Yasur fleet, advanced munitions and more," says the Israeli ministry of defence. "The procurement plan based on US security assistance is crucial to strengthening the [Israeli air force] and for the [Israel Defense Forces' Qualitative Military Edge] in the decades to come."
The ministry did not disclose how many F-35s it plans to acquire. The country has yet to choose between the Sikorsky CH-53K and Boeing CH-47F heavy lift helicopter to replace its 22-strong fleet of CH-53s.