Japan has been cleared by the US Department of State to buy 105 Lockheed Martin F-35 Lightning II stealth fighters as part of a package worth an estimated $23.1 billion.
The potential F-35 deal is the second largest foreign military sale approved by Washington in history, behind a $29.4 billion sale of Boeing F-15SA fighters and associated weapons to Saudi Arabia in 2010.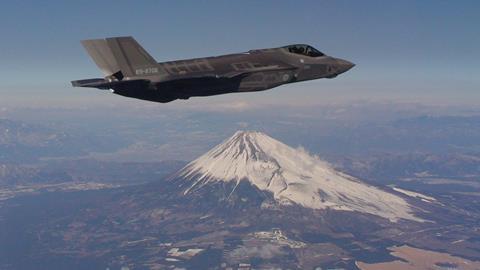 Tokyo requested 63 examples of the conventional take-off-and-landing variant F-35A and 42 of the short take-off and vertical landing F-35B, the US Defense Security Cooperation Agency (DSCA) says as part of a notice delivered to the US Congress on 9 July.
Also part of the sale are 110 Pratt & Whitney F135 engines, including five spares.
The fighters will come with an electronic warfare and command system; control, communications, computers and intelligence, navigation and identification system; the F-35 Autonomic Logistics Global Support System; the F-35 Autonomic Logistics Information System; a flight mission trainer; and F-35 unique infrared flares, among other undisclosed subsystems and features.
"This proposed sale will support the foreign policy goals and national security objectives of the United States by improving the security of a major ally that is a force for political stability and economic progress in the Asia-Pacific region," says the DSCA. "It is vital to US national interest to assist Japan in developing and maintaining a strong and effective self-defence capability."
Japan is ordering F-35Bs to populate its two Izumo-class vessels. Originally built as helicopter carriers, the Izumo and Kaga are to be retrofitted with reinforced and heat-resistant decks to handle the fixed-wing aircraft.
Though Japan has a Final Assembly and Check-Out facility for the F-35, aircraft from this prospective order are to be built in Fort Worth, Texas. There are no known offset agreements as part of the deal, says the DSCA.
The sale of F-35s to Japan is not finalised and still requires acceptance by Tokyo.